iOS 12 Now Installed on 78% of All Devices From the Last Four Years
Three and a half months after launch, the iOS 12 operating system is installed on 78 percent of devices released in the last four years, according to updated iOS 12 installation statistics shared on the App Store support page for developers.
Apple now presents iOS data in two ways, offering up installation rates on recent devices and older devices.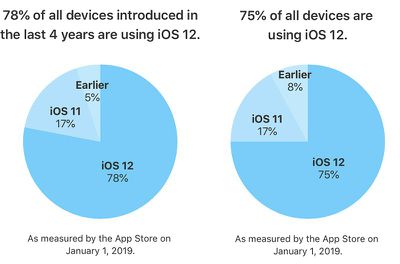 While 78 percent of all devices from the last four years are running iOS 12, 75 percent of all devices have the updated installed. 17 percent of users continue to run iOS 11, while five percent of devices released in the last four years run an earlier version of iOS.
iOS 12 was installed on 70 percent of all devices and 72 percent of recent devices as of December 4, so installation rates have grown just a few percent over the course of the last month.
iOS 12 is being adopted more quickly than iOS 11. On January 25, 2018, iOS 11 was installed on just 65 percent of active iOS devices, likely because of the myriad bugs that plagued the iOS 11 operating system over its lifetime.
Adoption rates for iOS 12 are more similar to iOS 10 adoption rates, with that operating system installed on 76 percent of active devices by January 5, 2017.
Apple's ability to quickly disseminate software updates to the majority of its user base has always given it an edge over Android, with Apple able to deliver new features and security updates in a timely manner.
Most Android users continue to use the years-old Marshmallow, Nougat, or Lollipop operating systems rather than the most recent version of Android, and many Android devices may never see updates to newer versions.