Verizon App Now Allows eSIM Activation on iPhone XS, iPhone XS Max, and iPhone XR
It is now possible to use the My Verizon app to activate eSIM service on an iPhone XS, iPhone XS Max, or iPhone XR in the United States.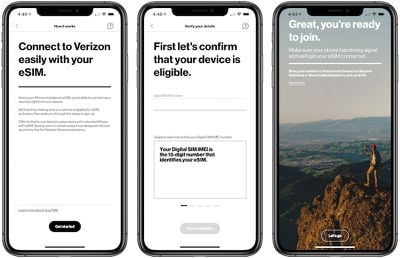 The app was updated today to allow Verizon customers to purchase a cellular plan for the eSIM line of an iPhone without needing to visit a Verizon store. The in-app process should be more straightforward and convenient.

Verizon
and
AT&T rolled out eSIM support last week
, while T-Mobile is expected to
offer an in-app solution
for setting up eSIM
later this month
.
Other carriers offering eSIM service include Bell, Fido, Rogers, Virgin Mobile, and Lucky Mobile in Canada, Deutsche Telekom and Vodafone in Germany, T-Mobile in Austria and Czech Republic, Hrvatski Telekom in Croatia, 3 in Denmark and Sweden, Telia in Finland and Estonia, EE in the United Kingdom, and many others.
iPhone XS, iPhone XS Max, and iPhone XR models have both a physical SIM and an eSIM that allows for dual SIM, dual standby. This means you can have two lines of service on one iPhone, which is useful for purchasing data-only plans while traveling or having personal and business lines on a single iPhone.
Update: This process appears to be limited to customers of other carriers who are looking to add Verizon service via the eSIM.