iPad Pro Reviews Roundup: Blazingly Fast With a More Balanced Design, But Some Face ID and USB-C Quirks
The first wave of reviews of Apple's redesigned iPad Pro were published this morning. We've collected some of the key takeaways below.
The new upgraded 11-inch and 12.9-inch iPad Pro models feature edge-to-edge displays that do away with the Home button, slim bezels all the way around, and a TrueDepth camera system that enables Face ID. Apple's new iPad Pro models also work with the Apple Pencil 2 and revamped Smart Keyboards.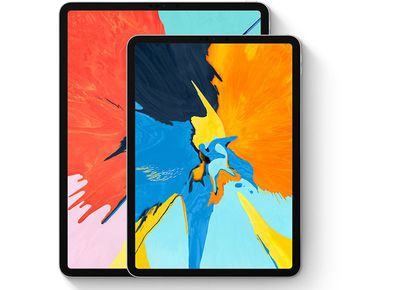 On the new iPad Pro design:
Apple says this is the iPad it's wanted to build all along, and I'm not surprised. All the horsepower tucked away inside (and there's a lot of it) is more accessible because of this streamlined design, and I don't think I could go back to an iPad that wasn't this trim.
The overall aesthetic is much more businesslike and less 'friendly' in that very curvy sort of Apple way. I like it, a lot. The flat edges are pretty clearly done that way to let Apple use more of the interior space without having to cede a few millimeters all the way around the edge to unusable space. In every curved iPad, there's a bit of space all the way around that is pretty much air. Cutting off the chin and forehead of the iPad Pro did a lot to balance the design out and make it more holdable.
On the Liquid Retina display:
Apple's doing all the color management and individual color calibration you expect here, so iPad Pro looks dead accurate — so much so that, like iPhone XR, it can be hard to tell Apple LCD from Apple OLED in anything but the deep blacks and the off-axis. And yeah, that's still impressive.
Apple keeps saying the iPad Pro now has an "all screen design" that "goes from edge to edge," but let's just be honest: nothing about these bezels is edge-to-edge. It is, however, an extremely nice 264ppi LCD screen, and I continue to be a fan of Apple's fancy technique to round off the corners of LCDs.

Apart from the corners, the new iPad Pro display is substantially the same as last year's Pro, with Apple's extremely smooth 120Hz ProMotion variable refresh rate system, True Tone automatic color calibration, and wide color support. This is one of the best, most accurate mobile displays you can look at.
On Face ID:
It works well, and doesn't require that cut-out notch on the screen like the iPhone. It's not quirk-free, though. We usually hold our iPhones in a portrait (vertical) orientation because that's just how they fit in our hand. With an iPad like this, you almost always use two hands, and that means there isn't really a "right" or "wrong" way to hold it. From time to time, my hands would sometimes accidentally block the Face ID camera when I held it in landscape (widescreen) orientation. And if I'm lounging around, my face may also be out of view. As I've gotten used to keeping my head in front of the tablet screen, and my hands away from its front-facing camera, Face ID evolved from a hindrance to a helpful, secure aid.
On the second-generation Apple Pencil:
The new Apple Pencil has the same tip and core technology as the original but just about everything else has changed. There's no cap on the back to lose anymore and no Lightning plug either. It charges inductively now by magnetically piggy-backing right onto the side of the iPad Pro. It uses a series of magnets carefully arranged with alternating poles to force precise alignment and, when it gets it, locks into place with a satisfying, AirPods style thunk.
We had a few issues with the Pencil. The first is with synchronisation: when it clips on magnetically, it's supposed to pair with the iPad Pro (which ours did) and then be ready to use when removed (which ours did not always do). It also came unclipped easily when the iPad Pro was taken out of a rucksack, with the Pencil slipping off into some dark recess rather often.

There were multiple times when we'd remove it to no result - another connection was needed to get it to work, and we'd have to 'tap to connect'. Not what you'd expect for something that costs $129.
On the USB-C port that replaces a Lightning connector:
Included in the box is a 18W USB-C charger that means you can charge much faster and if you're a heavy user you'll need it. Using USB-C means you can charge it with your MacBook charger and it also supports reverse charging - so you could use it to charge your iPhone if your battery is low.
I tried a handful of USB-C hubs with an assortment of USB-A, HDMI, card readers, and Ethernet ports, and everything worked as intended... other stuff didn't work, though: printers didn't do anything. A Native Instruments Maschine mk3 audio controller sat in silence. A Beyerdynamic USB-C microphone only worked when we used an A-to-C cable plugged into a hub. USB-C is still kind of messy and weird, so you'll just have to try things and see what works for you.

But one extremely important category of devices will definitely not work: iOS does not support external storage. You can plug as many flash drives or hard drives as you want into the iPad Pro's USB-C port, and nothing will happen.
On the iPad Pro's battery life:
Battery life is also as excellent as on previous iPads. Apple advertises "up to 10 hours" for mixed usage and I got just about exactly that for reading, playing some games, watchings lots of YouTube and Netflix, and typing out some of this review. More intensive apps like Rush CC and iMovie will drain your battery quicker, so keep that in mind. But even still, I still got around 7-8 hours while working with pro-level apps.
On an iPad Pro replacing a laptop computer:
The Wired's Jeffrey Van Camp:
It doesn't feel like the world is ready to treat my iPad as an equal to a PC yet—even if that iPad is a lot more powerful and user friendly. Now that Apple has declared the iPad is a PC, it should take more of the guardrails off of iOS.
The iPad Pro can be purchased from the Apple online store and it will be available in retail locations starting on November 7.
Pricing on the 11-inch iPad Pro starts at $799 for 64GB of storage, with 256GB of storage available for $949, 512GB of storage available for $1149, and 1TB of storage available for $1549. Models with cellular connectivity are available for an additional $150 over the base price for each storage tier.