Apple Blames Currency Fluctuations and Uncertainty in Emerging Countries for Weak Holiday Sales Estimates
Though iPhone revenue was up in 4Q 2018, fourth quarter iPhone XS and XS Max sales were not as strong as expected, and iPhone sales growth was essentially flat. Apple sold 46.9 million iPhones during the quarter, compared to 46.7 million in the year-ago quarter, missing analyst estimates.
Apple's $89 to $93 billion revenue forecast for the first fiscal quarter of 2019 is rather also cautious, which Apple blamed on foreign exchange costs, issues with supply/demand balance, and weakness in emerging markets.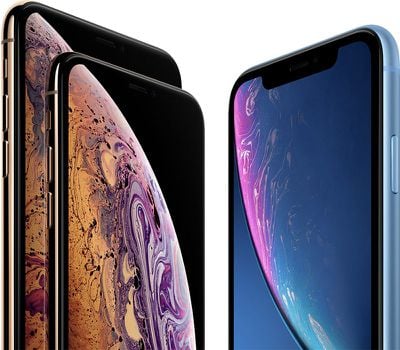 "Virtually every foreign currency has depreciated against the dollar over the last 12 months," said Apple CFO Luca Maestri. "That adds 200 basis points of headwinds to the tune of $2 billion to our revenue."
Uncertainty in emerging markets is also a factor. "There's some level of uncertainty at the macroeconomic model in some emerging countries where consumer confidence is not as high," said Maestri.
Maestri also said that Apple has launched an "unprecedented number" of new products over the course of the last six weeks, and Apple has "some uncertainty" around supply/demand balance for some of these products. The launch timing of the new iPhones is also a factor, with the iPhone XR coming later than the XS and the XS Max. This had an effect on Apple's Q4 revenue and will also impact Q1.
Despite the cautious guidance for the first fiscal quarter of 2018, Apple is "very excited" about its lineup of products and services entering the holiday shopping season, and Maestri said that Apple has the "strongest lineup" it's ever had.
Going forward, Apple does not plan to break down unit sales of the iPhone, iPad, and Mac, a major change to the way that earnings data is presented. Apple will, however, continue to provide details on overall iPhone, iPad, and Mac revenue.
Apple CEO Tim Cook and Apple CFO Luca Maestri explained during today's earnings call that Apple does not believe that providing unit sales is relevant for the company at this point.