Apple today updated its Shortcuts app for iPhones and iPads to version 2.1, introducing new capabilities that can be used to create various automations and shortcuts using first and third-party apps.
The new 2.1 version of the app brings new options for creating weather and forecast shortcuts, setting alarms and timers, converting between units, and importing recent photos.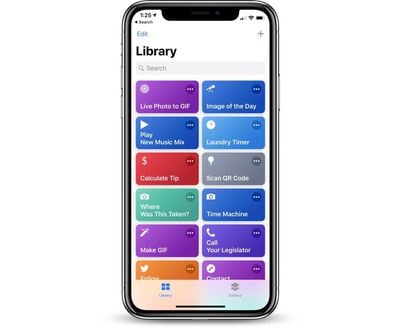 Apple's full release notes for the update are below:
- Use the latest weather in your shortcuts with the new Get Current Weather and Get Weather Forecast actions
- Set alarms and timers with the new Create Alarm, Toggle Alarm, and Start Timer actions
- Convert between a variety of units with the new Measurement and Convert Measurement actions
- Get the most recent set of imported photos from the Photos app using the Get Last Import action
- When running a shortcut from HomePod using Siri, media will now automatically play back from HomePod using AirPlay
- Bug fixes

Learn more and see the full list of changes at https://support.apple.com/HT209087.
Siri Shortcuts, introduced in iOS 12, is a feature designed to let you create multi-step shortcuts using first and third-party apps that can be activated by Siri voice command.
So, for example, you can create a shortcut to do something like turn on the thermostat at home using the Nest app, text your roommate that you're on the way with Messages, and open up the Maps app with directions home all with a single "I'm going home" Siri command.
Shortcuts are deeply customizable and can be created and found through Apple's Shortcuts app, available from the App Store. [Direct Link]