Apple revealed the Apple Watch Series 4 during an event in September, highlighting a new electrocardiogram (ECG) app that will be coming to users in the United States through a watchOS software update later in the year. Regulatory clearance is required for the ECG feature, and because of this it will be limited to the U.S. at launch, although the company is working on approval for other countries.
In a new post by 9to5Mac today, code found within iOS related to the ECG feature suggests that the ECG limitation is based on software, not hardware. This means that gaining access to the ECG app in a non-U.S. territory will be as simple as changing the region of the Apple Watch Series 4 and connected iPhone to the United States.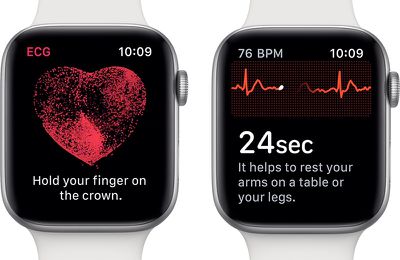 iPhone region can be changed by going to the Settings app > General > Language and Region, and then selecting the Region of your choice. Those who switch regions should note that the time, date, currency formats, and more will be affected by the change.
The ECG app on Apple Watch Series 4 works by placing a finger on the Digital Crown while wearing the watch. The electrodes in the Apple Watch detect the electrical impulses from your heartbeat and route the data to the S4, where it is converted into a signal for Apple's algorithms. This results in a heart rhythm classification that can vary between a normal rhythm to an atrial fibrillation. All of your ECG results are stored in the Health app in PDF format and can be easily shared with your doctor.
While the FDA has granted de novo clearance for the ECG feature, that's not the same as FDA approval and the agency does not recommend that the ECG feature be used by those under 22 or those who have already been diagnosed with atrial fibrillation. The FDA warns that Apple's ECG app is not designed to replace traditional methods of diagnosis or treatment and is intended for informational use only. The Series 4 is the first ECG product being offered over the counter directly to consumers.