Facebook today announced that it's rolling out a redesigned, simplified version of the Messenger app on a global basis starting today.
Messenger 4, as Facebook is calling it, will refocus on conversations, making it easier to navigate through the app. Instead of nine separate tabs, there will be three tabs, with conversations quickly accessible through the "Chats" tab. Quick access to the camera for sharing photos and for video chats is also included in the Chats tab.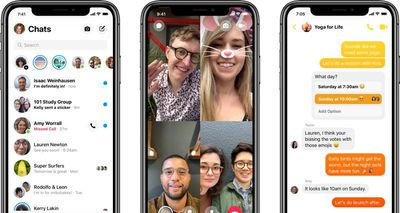 In the new "People" tab, Messenger users will be able to find friends, see who is active, and watch people's Stories, while the new "Discover" tab will let users find businesses to get deals, play games, follow news stories, and more.
Conversations with people can be customized using color gradients. With color gradients, multiple colors can be used for chat bubbles, and the colors will change as you scroll up and down a conversation.
According to Facebook, the new Messenger app will roll out to customers "over the coming weeks" so not everyone will have access to the refreshed design right away.
In the near future, Facebook also plans to roll out a Dark Mode that will cut down on glare from the phone at night.