Apple Identifies Issue With GasBuddy App Causing Some iPhones to Become Unresponsive [Updated]
Apple has identified an "issue" with the GasBuddy app that may result in some iPhone 8, iPhone 8 Plus, iPhone X, iPhone XS, and iPhone XS Max devices becoming "unresponsive," according to an internal announcement shared with Apple Stores today. The memo was obtained by MacRumors from a reliable source.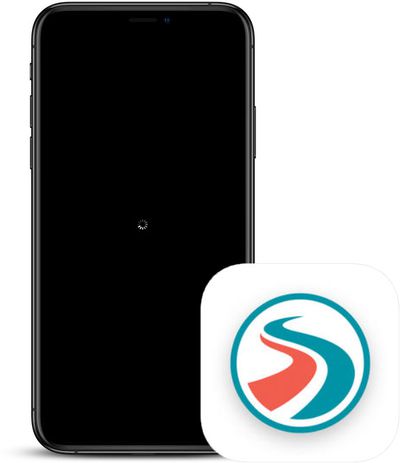 Apple says affected iPhones will have a black screen with an endlessly spinning wheel—aka a respring loop. In its memo, Apple says it is working with GasBuddy to "resolve" the issue, which started "sometime after October 18, 2018."
If a customer reports the issue at an Apple Store, Apple has instructed its Genius Bar employees to force restart the iPhone, and then ask the customer to uninstall the GasBuddy app. If the device is still unresponsive, Genius Bar employees are instructed to continue with the standard service process.
It's unclear why the GasBuddy app is crashing some iPhones. A spokesperson for GasBuddy said its team "has been and continues to investigate," and delayed further comment until the company has more insight about the matter. A spokesperson for Apple did not immediately respond to request for comment.
GasBuddy is a popular app for locating gas stations with the lowest-priced gas in the U.S., Canada, and Australia. The app, which boasts 70 million users, relies on users submitting gas prices when they fill up to help alert others. GasBuddy also provides alerts when gas prices are set to increase.
According to GasBuddy's release notes, the app was updated on October 17 with support for iOS 12. The update also "fixed some crashes." On October 19, the app was again updated with bug fixes, including one that caused some location-based information to not appear, and another related to gas station details.
Update: A spokesperson for GasBuddy has issued the following statement to MacRumors, indicating that it is "rapidly preparing an update" that it believes "solves the underlying issue." In the meantime, GasBuddy will be temporarily removing its app from the App Store to limit exposure.
On Friday (October 19), Apple approved the latest version of the GasBuddy app. This was subsequent to our app going through Apple's typical, thorough review process that, as you know, Apple requires before releasing any app into its store.

Over the weekend, we heard from a single user that encountered an issue that resembles the one you described.

We had not heard anything from Apple about GasBuddy causing unresponsive phones, or that a new app build would be required, until maybe 10 minutes before we received your inquiry.

We absolutely regret any association with a poor user experience. We are committed to doing our part to address this quickly and completely.

Thus, we are rapidly preparing an update we believe solves the underlying issue and are making our app temporarily unavailable for download to limit the number of potentially affected users.
GasBuddy has also tweeted about an incoming fix:
We are aware that some people are encountering issues with our iOS app. We're rapidly preparing an update we believe solves the issue and are making our app temporarily unavailable for download to limit the number of potentially affected users. — GasBuddy (@GasBuddy) October 22, 2018
Update - 6:30 p.m. Pacific Time:
GasBuddy has returned to the App Store with an update that "resolves an issue that was causing some devices to crash."
Update:
In a statement issued to MacRumors, GasBuddy attributed the issue to an Apple framework: "The version of the app released on Oct 18 was built using a particular framework service in a documented way, approved by Apple, but with unexpected consequences. You would need to speak directly with Apple for more details."