Jony Ive Discusses His Team's Move to Apple Park, Remains Tight-Lipped About Prospects of Apple Car
Apple's design chief Jony Ive sat down for an interview over lunch with Financial Times reporter Nicholas Foulkes earlier this month, discussing a wide range of topics, including the Apple Watch, Apple Park, and prospects of an Apple Car.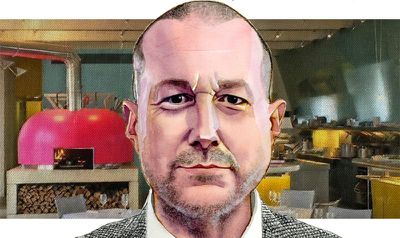 Jony Ive portrait via Financial Times
Questioned on why Apple's design team was among the last to move into the company's new Apple Park headquarters, Ive said that was the plan all along, adding that relocating some 9,000 people takes time:
It wasn't late, it was always scheduled to be then. When you're moving 9,000 people, you don't do it in one day. We're one of the last groups. It's a loaded and significant event because it meant leaving a studio that has decades of history, where we designed and built first prototypes. This is the studio I went back to on the day that Steve died. And it's the place where we figured out the iPhone and the iPod.
Ive said his team's move to Apple Park has allowed for increased collaboration among different areas of creative expertise:
Moving to Apple Park represents the coming together, at last, of these different areas of creative expertise that are incredibly diverse. I'm fairly confident that this has never happened before, to have industrial designers next to font designers, next to prototypers, next to haptic experts. The best haptic experts in the world are sat next to a bunch of guys who have PhDs in material science.
On the prospects of an Apple Car, Ive remained tight lipped. In general, he said it's important to work on the associated issues and challenges with any new product, rather than talk about it and risk having the ideas and technologies copied:
We explore so many different thoughts and so many different technologies for products or services. Some companies use the fact that they are exploring lots of different ideas as a PR tool — we don't. If you are genuinely working on something, it's better to be working on it and struggling with the associated issues and challenges, rather than talking about it. Our capital, our equity, is our ideas and the technologies that we're developing. It's important that as long as possible that remains ours, to try and postpone that point when they will then be copied — which is what history suggests.
When asked if the Apple Watch is best described as a watch, Ive instead referred to it as a "very powerful computer":
No, I think that this is a very powerful computer, with a range of very sophisticated sensors, that is strapped to my wrist. That's neither very descriptive nor very helpful. You and I share the same perspective and we had this same challenge with the product that we called the iPhone. Clearly the capability of the iPhone extends way beyond the function of what we would traditionally call a phone.
Ive went on to say that Apple believes it has a responsibility to understand and mitigate the implications and consequences, both positive and negative, of the products it creates — i.e. Screen Time in iOS 12. "It keeps me awake," he said:
If you genuinely have a concern for humanity, you will be preoccupied with trying to understand the implications, the consequences of creating something that hasn't existed before. I think it's part of the culture at Apple to believe that there is a responsibility that doesn't end when you ship a product… It keeps me awake.
Also See: Jony Ive Talks Secrecy, His Future, and More at WIRED Anniversary Event