Apple Design Chief Jony Ive Talks Secrecy, His Future, and More at WIRED Anniversary Event
Apple design chief Jony Ive sat down with Vogue's Anna Wintour this morning for an interview at WIRED's 25th anniversary event, where he talked about secrecy at Apple, his future with the company, and more.
WIRED didn't stream the event, but CNET's Shara Tibken and Washington Post's Geoffrey Fowler were on hand and shared details on what Ive had to say on Twitter.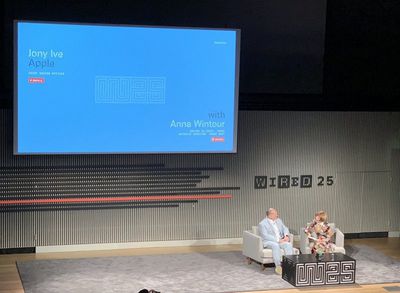 Image via Shara Tibken


On the topic of iPhone addiction, Ive said that it's good to be connected, but the "real issue" is what's done with that connection. According to Ive, when it comes to innovating, it's impossible to predict all of the consequences. "In my experience, there have been surprising consequences," he said. "Some fabulous and some less so."
Apple introduces new features like Screen Time because the company doesn't believe that its responsibility for a product ends when the product is shipped. Apple, says Ive, wants to design its technology to be more human to "restore some humanity" in the way people connect with one another.
When questioned about why Apple is so secretive and keeps its projects under wraps as much as possible, Ive said that not being secretive would be "bizarre." Not many creators would want to talk about what they're doing "when they're halfway through it," he said.
I've been doing this for long enough where I actually feel a responsibility to not confuse or add more noise about what's being worked on because I know that it sometimes does not work out.
According to Ive, he's at Apple for the long haul. He continues to see a lot to do with Apple, and is happy with the team that he works with. The "energy and vitality" at Apple is "extraordinary" and "very exciting" Ive said.
Ive: "If you lose that childlike excitement, I think then it's probably time to do something else.

Wintour: "Are you at that point?"

Ive: "Oh goodness, no."
Ive is still learning at Apple with each new project, and when asked about the last thing he learned, he said that it was a detail on how you can connect glass to a structural frame. "We're still surprised and learning so much," he said.
It's not yet clear if WIRED plans to share the full interview Anna Wintour conducted with Jony Ive, but should a video or additional details be published, we'll update this post.
Update: WIRED has shared additional comments from Ive during the interview.