Mophie today announced the launch of the new Powerstation USB-C 3XL, which has been designed to charge Apple's line of MacBook devices.
The fabric-covered Powerstation USB-C 3XL includes a 26,000mAh battery that Mophie says is able to provide a 12-inch MacBook with up to 18 hours of additional battery life. It is Mophie's largest Powerstation to date.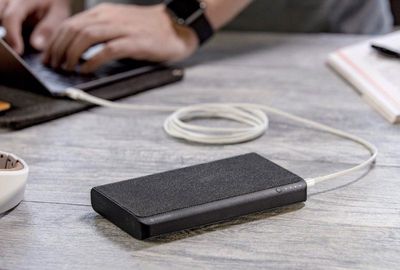 Though designed to charge the MacBook at full speed, the 45W Powerstation USB-C 3XL can be used to provide a little additional juice for the more powerful MacBook Pro models. Battery life won't go quite as far, though, nor will charging be as fast.
The Powerstation USB-C 3XL can also be used to fast charge an iPhone 8 or later with a USB-C to Lightning cable, and there is a built-in USB-A port for charging iOS devices and other accessories with a traditional USB-A to Lightning cable.
Mophie says the new Powerstation USB-C 3XL features Priority+ Charging that's designed to send power to connected devices before charging the Powerstation when it's plugged into a power source.
Mophie's new Powerstation USB-C 3XL can be purchased from the Mophie website, from the Apple online store, or from Apple retail stores starting today, with the device priced at $199.95.