Kuo Predicts 'Better Than Expected' Replacement Demand for iPhone XR, Raises Shipment Forecasts
Demand for the iPhone XR will be higher than demand for the iPhone 8 last year, Apple analyst Ming-Chi Kuo reiterated in a note to investors this morning.
Kuo is predicting better than expected replacement demand for iPhone XR along with improved supply starting in October, leading him to revise his predicted shipment estimates.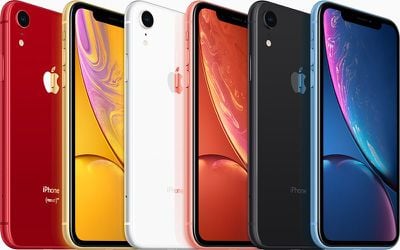 Apple is now expected to ship 36 to 38 million iPhone XR units in the fourth quarter of 2018, up 10 percent from an original estimate of 33 to 35 million units.
As he said last week in a note about the XR driving upgrades in China, Kuo is expecting the iPhone XR to outsell the iPhone 8 because of its larger display, longer battery life, dual-SIM support, and new form factor design.
With the revised XR shipment expectations, Kuo believes Apple will ship a total of 75 to 80 million iPhone units during 4Q2018.
iPhone XR shipments are also expected to be up in the first quarter of 2019, a historically slow quarter for Apple. Quarter over quarter decline is expected to be at 25 to 30 percent instead of 45 to 50 percent for iPhone 8.
We expect XR shipments to beat low seasonality in 1Q19. We forecast that XR shipments in 1Q19 will decline 25-30% QoQ to 27-30mn units, and we attribute the lower XR shipment QoQ decline, compared with general consumer electronics and smartphones' 30-40% QoQ decline, to better replacement demand and production delay. Also, XR's shipment QoQ decline in 1Q19 will be better than the iPhone 8 series' 45-50% in 1Q18.
Total iPhone shipments in the first quarter of 2019 are expected to grow by 10 percent year-over-year to 55 to 60 million units thanks to the strength of the iPhone XR. Shipment allocations of XS, XR, and legacy models will be at 35 percent, 50 percent, and 15 percent respectively.
Apple's iPhone XR will be available for pre-order at 12:01 a.m. Pacific Time on Friday, October 19, with an official launch to follow on Friday, October 26. Apple's colorful new iPhone will be priced starting at $749 for the entry-level model.