Man Wearing Apple Maps Backpack Surveying San Francisco on Foot
Apple is expanding its street mapping efforts beyond vans outfitted with LIDAR equipment and now has employees collecting street level data on foot.
MacRumors reader Dante Cesa spotted a man wearing an Apple Maps backpack featuring a LIDAR rig, GPS, and multiple cameras, some of the same equipment that's previously been spotted on Apple's mapping vans.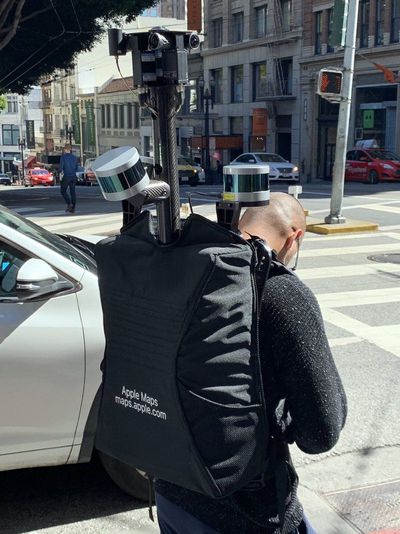 Apple has been collecting street-level data with its Apple Maps vans since 2015, but this is the first time we've seen someone collecting mapping data on foot.
Apple in iOS 12 introduced a revamped Maps app that's been rebuilt from the ground up using its own data, which the company has promised will bring better accuracy and more detail.


The new Maps app offers up improvements to traffic, real-time road conditions, road systems, new construction, and changes in pedestrian walkways along with more detail and accuracy when it comes to displaying foliage like grass and trees, parking lots, building shapes, and more.
Data gathered on foot will likely be used to improve pedestrian directions in major cities like San Francisco.
Apple appears to be bolstering its mapping efforts following the launch of iOS 12. Along with the Apple Maps backpack man, Apple has also deployed new Subaru Impreza mapping vehicles that were spotted with new LIDAR equipment earlier this week in Los Angeles.