New Apple Maps Cars Spotted in Los Angeles
New next-generation Apple Maps vehicles have been seen on the streets of Los Angeles, according to Business Insider. While Apple has previously been using minivans to collect mapping data, the new vehicles are Subaru Impreza wagons.
The Subarus feature new LIDAR equipment that we have not previously seen either on Apple's Maps minivans or on the Lexus SUVs that it is using to test self-driving capabilities in Northern California.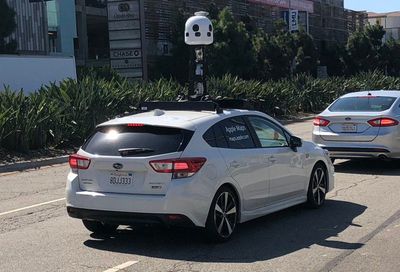 Apple has been collecting street-level data from vehicles equipped with multiple cameras and advanced LIDAR systems since 2015. In fact, its original minivans sparked speculation about work on an autonomous vehicle, which turned out to be true, but the minivans from 2015 on were always dedicated to maps.
Apple is using the data that it has gathered from its mapping vehicles in iOS 12, with the revamped Maps app that's been rebuilt from the ground up for better accuracy and more detail.
Apple is no longer relying on a third-party Maps provider, instead using the information it has collected over the past three years from vehicles driving across the United States and other countries.
The new Maps app, available in California at the current time, offers up improvements to traffic, real-time road conditions, road systems, new construction, and changes in pedestrian walkways along with more detail and accuracy when it comes to displaying foliage like grass and trees, parking lots, building shapes, and more.
It's not clear why Apple has switched to a new type of mapping vehicle, nor what new equipment it is using, but prior setups have included four LIDAR arrays, eight cameras, a GPS rig, a measurement tool attached to a rear wheel for precise distance tracking and image capture, and inside, a Mac Pro for storing all the data.
The new vehicles appear to be limited to Los Angeles at this time, but a similar setup was spotted in San Francisco in an unmarked white Subaru. If Apple is using a new type of mapping vehicle, we could see them in additional areas in the United States soon.
Apple maintains a full list of all of the locations where it is gathering mapping data at any given time for "future Apple Maps updates" on its website.