iPhone XS Max vs. LG's Newly Announced V40 ThinQ
LG today debuted its next-generation smartphone, the LG V40 ThinQ, equipped with an all glass body and a display notch for housing camera equipment, much like the iPhone XS and XS Max.
We were able to get one of LG's new V40 ThinQ smartphones ahead of their launch, and we've got the first V40 ThinQ vs. iPhone XS Max comparison that highlights the differences between Apple's flagship device and LG's new flagship device.
The LG V40 ThinQ features an all glass body with an aluminum frame, while the iPhone XS Max has an all glass body with a stainless steel frame. Apple has done away with the headphone jack, but the V40 still has one, and instead of a Lightning port, it features a USB-C port.
In the hand, the LG V40 ThinQ feels lighter than the iPhone XS Max, but due to the size, it's still a two-handed device.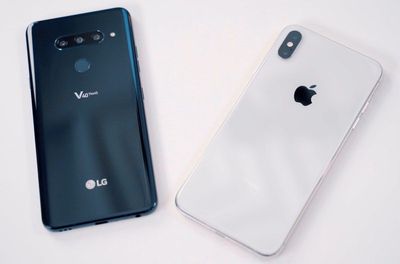 The V40 measures in at 6.4 inches with a high-quality HDR OLED display that is as sharp and vibrant as the 6.5-inch HDR OLED display of the iPhone XS Max.


Both devices have a front-facing notch, and while the V40's notch is somewhat less obtrusive, it's also housing lesser equipment. The V40 ThinQ features two front-facing cameras, one with 8 megapixels and the second with 5 megapixels. The cameras enable a fast and efficient facial recognition feature for unlocking the device, but as with most Android implementations, it's not using 3D facial mapping and is less secure.


Because of the weaker facial recognition implementation, LG's new device continues to offer a fingerprint sensor at the back.
The back of the LG V40 ThinQ is outfitted with three horizontal cameras, while the iPhone XS Max uses a dual camera system. In the V40, there's a 12-megapixel wide-angle lens, a 12-megapixel telephoto lens, and a 16-megapixel wide-angle lens.
The three cameras enable a range of useful features like Triple Shot for three photos at once from different angles, a Cine Shot for creating a photo with one part of the image in motion, and slow motion and portrait features similar to what you'll find in the iPhone XS Max.


We think the LG V40 is a solid iPhone XS Max competitor with its light weight and its impressive camera equipment, and in a future video, we'll delve further into the triple-lens camera system as rumors have suggested it's something we might see in next year's iPhones.
What do you think of the new LG V40 ThinQ? Does it measure up to the iPhone XS Max? Let us know in the comments.