eSIM Functionality Available in iOS 12.1, But Carrier Support is Required
Apple's iOS 12.1 beta introduces support for the eSIM, aka a digital SIM that lets you activate a cellular plan from your carrier without needing to use a physical SIM card. In the iPhone XS, XS Max, and XR, the eSIM pairs with the included nano-SIM to enable dual-SIM functionality.
The eSIM in the new iPhone XS and XS Max was not available at launch, with Apple promising to activate it in a later update, which appears to be iOS 12.1.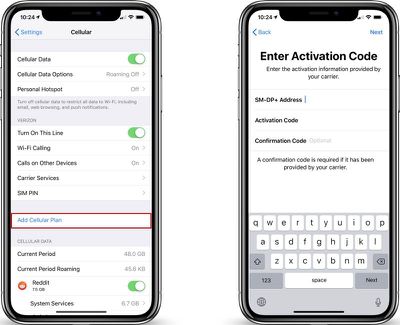 eSIM settings are available by going to the Cellular section of the Settings app and choosing "Add Cellular Plan," which is the method used to add another cellular provider via the eSIM.
All contacts in the Contacts app also now list a "default [P] Primary" setting in iOS 12.1 which lets you change the default phone number that you contact each person with if you have multiple phone numbers.


According to German site iPhone-Ticker.de, some Deutsche Telekom users are able to use the eSIM feature in iOS 12.1 to add two SIMs to their iPhones. Carriers need to implement the eSIM feature before it will work, and Apple offers a list of carriers that plan to offer the eSIM it in a support document.
In the United States, AT&T, T-Mobile, and Verizon plan to offer eSIM support, but the carriers likely won't roll out the feature until iOS 12.1 launches to the public.
Dual-SIM support with the eSIM is useful for people who use two cellular plans at once, such as for home or work, and it is also beneficial when traveling.
As Apple outlines on its website, both numbers used with a dual-SIM iPhone can make and receive voice calls and SMS/MMS messages, but an iPhone can only use one cellular data network at a time. That means if one number is on a call, a call to the other number will go to voicemail.
Both networks are active at once, however, and with dual-SIM enabled, you will see two carrier signal readings in the Control Center.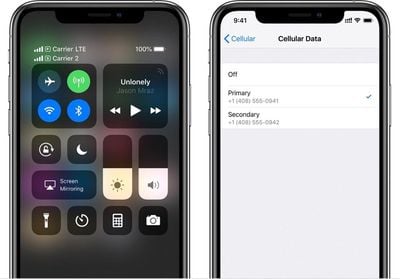 eSIM support will be available to everyone with an iPhone XS, XS Max (and future XR) when the iOS 12.1 update launches to the public. We've only had one beta of iOS 12.1 so far, so there is still a ways to go.
The iOS 12.1 update also includes support for Group FaceTime for up to 32 people, a new real-time Depth Control slider that can be used when taking Portrait Mode photos, and, with watchOS 5.1, new color watch face options in the Apple Watch app.