VMware Fusion 11 Released With Support for macOS Mojave, 18-Core iMac Pro, and More
VMware has released Fusion 11, the latest version of its virtualization software, with full support for macOS Mojave and the latest Mac hardware, including the 18-core iMac Pro and the 2018 MacBook Pro with a six-core Intel Core i9.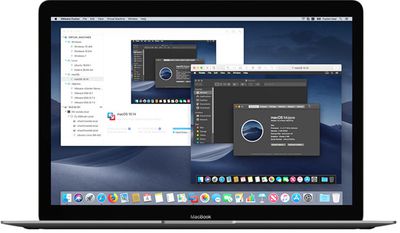 VMware Fusion, like rival software Parallels Desktop, can run hundreds of operating systems, ranging from the latest Windows 10 versions to Linux distributions like Ubuntu, directly on the desktop of a Mac.
VMware says Fusion 11 delivers many new features and platform enhancements, including an updated user interface. A new Application Menu allows users to quickly switch between virtual machines, or create a new one; change view modes, settings, and snapshots; or launch Windows apps with a single click.


Fusion 11 and Fusion 11 Pro both default to Apple's Metal graphics rendering engine on supported hosts, with added DirectX 10.1 compatibility. The new version also allows for customizable Touch Bar controls on the latest MacBook Pro models.


There are also many under-the-hood performance improvements, particularly with Virtual NVMe devices. Users can change their virtual disk type to NVMe to increase performance on Macs equipped with SSD storage. Meanwhile, security fixes and architectural changes have been made to mitigate threats like Spectre and Meltdown.
VMware details other new features, including a new Finder integration at the top of the VM Window, on its website.
Fusion 11 and Fusion 11 Pro are available today for $79.99 and $159.99 respectively via VMware's website. Upgrade licenses for Fusion 11 and Fusion 11 Pro are available for $49.99 and $119.99 respectively for existing users of Fusion 10, Fusion 8, or Fusion 8.5. Prices and availability vary by region.