iPhone XS Teardown Reveals New Single-Cell L-Shaped Battery
Dutch repair site FixjeiPhone today shared a teardown of the iPhone XS, providing us with our first look inside the 5.8-inch model.
A side-by-side comparison shot with the iPhone X reveals that the internal layout of the iPhone XS has not changed significantly, with the most obvious difference being a new single-cell L-shaped battery with a capacity of 2,658 mAh.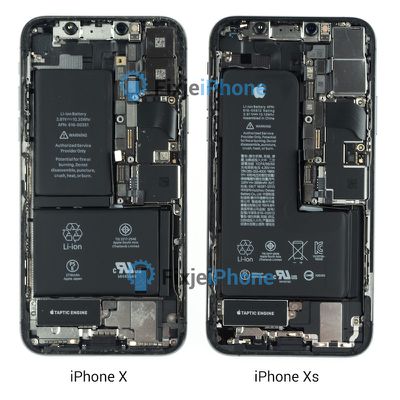 The battery was also L-shaped in the iPhone X, but it was a two-cell configuration, instead of a single lithium-ion battery pack.
While the iPhone XS's battery has around 2.2 percent less capacity than the 2,716 mAh battery in the iPhone X, Apple says the iPhone XS gets up to 30 minutes longer battery life than the iPhone X per charge cycle, presumably due to efficiency gains from the A12 Bionic chip and other components.
FixjeiPhone shared a photo of the iPhone XS almost completely disassembled, but it has not labeled any components or manufacturers.


Their video teardown, which can be watched with English subtitles on YouTube, indicates that the display is a bit harder to remove due to stronger seals that help the iPhone XS achieve its improved IP68-rated water resistance.
Repair site iFixit should have more detailed iPhone XS and iPhone XS Max teardowns soon after the devices launch in stores tomorrow.