First iPhone XS, iPhone XS Max and Apple Watch Series 4 Orders Begin Shipping Out to Customers
Apple started preparing the first iPhone XS, iPhone XS Max, and Apple Watch Series 4 orders for shipment over the weekend, and now those orders have started shipping out to customers.
Apple has not yet updated order statuses from "Preparing to Ship" and likely will not do so until later this week when packages begin hitting their destination locations, but customers who pre-ordered a new device in the United States may be able to track their order using UPS tracking features.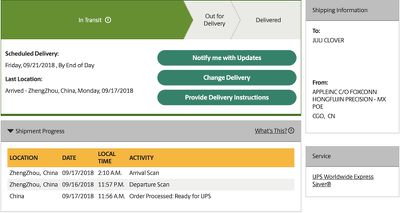 iPhone XS, iPhone XS Max, and Apple Watch Series 4 orders that are shipping via UPS in the United States are in transit and can be tracked using a UPS My Choice account or a reference number on the UPS website.
Customers with UPS My Choice accounts can visit the scheduled deliveries section of the website to see a list of Apple orders that are set to be delivered on Friday, which can be clicked to reveal full tracking details.


Tracking by reference requires a phone number and a zip code, or an order number minus the last two digits of the number. Many customers are already seeing their orders on the UPS website, but not every order has been transitioned to UPS as of yet.


Most orders right now are still in various parts of China, but should be departing for the United States and other countries in the near future.
Apple began accepting pre-orders for the iPhone XS, iPhone XS Max, and Apple Watch Series 4 on Friday, September 14 at 12:01 a.m. Pacific Time. By the time a half hour had passed, many iPhone XS Max models had sold out and were no longer available for launch day delivery.
iPhone XS, iPhone XS Max, and Apple Watch Series 4 orders placed today will not ship out until October, but some models are still available for in-store pickup on September 21 in select stores. Retail stores are also expected to have supplies available for walk-in purchases on launch day.
Apple Stores, carrier locations like Verizon, T-Mobile, Sprint, and AT&T, and big box retailers like Best Buy and Target are likely to have the new products available for purchase on launch day in the United States.