iPhone Screen Repairs to Get Faster as Apple Moves to Software-Only Calibration Process
Apple has announced that its iPhone display calibration process no longer requires specialized hardware, according to an internal service-related document obtained by MacRumors today.
Starting today, Genius Bars and Apple Authorized Service Providers can calibrate the display on a repaired iPhone 6s or newer by simply connecting the device to a Mac mini or MacBook Air running Apple's calibration and diagnostics software, without the need to use a so-called 3D Touch Calibration Fixture.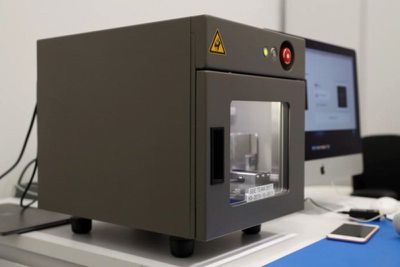 3D Touch Calibration Fixture via Reuters
Apple says this change will result in three benefits for service providers and customers:
More flexible workspaces for service providers, as the calibration fixture takes up quite a bit of space.

Reduced wait times for customers, suggesting that the software-based calibration process is faster.

Later this year, more Apple Authorized Service Providers around the world will have an opportunity to expand their in-store repair offerings to include iPhone display repairs.
Apple will outline the required steps for service providers to transition from the hardware to the software process later today, according to the internal communication, which was earlier reported by iMore's Rene Ritchie.
Apple Authorized Service Providers with a 3D Touch Calibration Fixture will be required to return the hardware at a later date to be announced.
iPhone display calibration ensures that a replacement display is fully integrated with the device's logic board at the system level. The process has been required since the arrival of Touch ID on the iPhone 5s in 2013, followed by 3D Touch on the iPhone 6s and newer, and Face ID on the iPhone X and newer.
Touch ID and Face ID calibration was already completed in software, and now 3D Touch calibration will be too, completely eliminating the need for hardware. If the display on an iPhone is replaced, but the calibration process is not completed, then Touch ID, Face ID, and/or 3D Touch will not function.
Apple only provided a handful of third-party service providers with its calibration fixture, so this change should result in faster, more flexible, and more widely available iPhone screen repairs in many countries.
Since Apple made Horizon machines available to Authorized Service Providers, there are more AASPs that can provide screen fixes than Apple Stores worldwide, making it quicker and faster for customers to get a screen repair. With change to a software-based calibration process, thousands more AASPs will be able to provide in-store screen fixes without the need to send devices off for repair.