iPhone XS Hands On: XS Max Feels 'Shockingly' Light, Killer Features are Depth of Field Slider in Photos and Dual SIM
Apple's latest event has come to a close, and that means the press is now getting a chance to go hands-on with the newest iPhones: the iPhone XS and iPhone XS Max. While largely similar in design to the 2017 iPhone X, the new models pack in a few new features that are distinct from the previous generation, namely the XS Max's large new 6.5-inch display.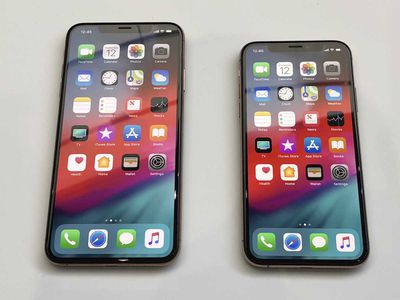 According to The Verge, the iPhone XS Max actually "feels much better than any 'Plus' iPhone ever has," thanks to a more ergonomic fit in the hands.

The iPhone XS Max is bigger, yes, but as you can see in the photos (below), it is almost hard to distinguish the two when you're looking at photos. It feels much better than any "Plus" iPhone ever has. I always found the Plus-sized iPhones to be ungainly, but the Max seems to be a little more ergonomic in subtle ways. If you've wanted a Plus before but were put off by the size, I'd at least try to hold the new Max size before making your decision.
Although Engadget warned that the iPhone XS Max approaches "smartphone overkill" with its size, they ultimately admitted that the device is "shockingly" light.

And then there's the iPhone Xs Max, which is the closest Apple has ever come to full smartphone overkill. That's mostly because of the phone's massive display -- at 6.5-inches diagonal, this is the biggest screen that Apple has ever squeezed into a smartphone. To say it's a handful is putting it very mildly, but here's the really crazy thing: it's surprisingly light, almost shockingly so. That might not sound like something to get worked up over, but take it from me, a habitual phablet fan: every fraction of an ounce a company can shave off a phone's weight means my old-man wrist won't hurt quite as much in the long term.
TechRadar came away impressed with the camera quality on the XS, but said that this line of iPhones feels like one of the more disappointing "S" generations, given how it's missing many standout features that make it recognizably different from the previous models.

There's always something so disappointing about the 'S' years of the iPhone - sure, it makes business sense for Apple given it can still command sales without having to redesign the phone every time, but without a new shape it's not as easy to explain to buyers why it's worth buying.

There are some decent improvements in the mix - notably the capacity, the louder speakers and the more colorful screen - but beyond that, many will likely be torn between last year's iPhone X that will now be cheaper and having the latest iPhone as we can't say the upgrades we saw were many and overpowering. The iPhone XR seems more of an impressive feat from Apple, to be honest.
Numerous publications pointed out some potential killer features of the iPhone XS include the bokeh effect slider in Portrait mode, as well as Dual SIM support. Dual SIM lets users integrate two separate phone numbers in one device, with one being a physical SIM card and another being an eSIM (China will get a version that supports two physical SIM cards).


Slash Gear called this a "potential gamechanger" for the iPhone XS lineup.

The other potential game-changer is dual-SIM support. To be accurate, only one version will have the ability to accommodate two physical SIM cards: a dual-SIM version of the iPhone Xs Max intended for China. Everywhere else will use a combination of one physical SIM and eSIM. That means carriers will need to play ball, and while Apple has a list of early compatibility, there's still a reasonable chance that your operator of choice may not be up to speed.
More information on the iPhone XS and iPhone XS Max can be found in our launch post, and if you want to catch up on the event itself Apple has posted the full video to its website.