Ahead of the 2018 International Broadcasting Convention that kicks off later this week, Adobe today shared details on updates that are coming to Premiere Pro, After Effects, Character Animator, and Audition.
Premiere Pro, Adobe's video editing software for professionals, is gaining new Motion Graphics templates and support for infographics created by dragging and dropping spreadsheet files into the Motion Graphics interface.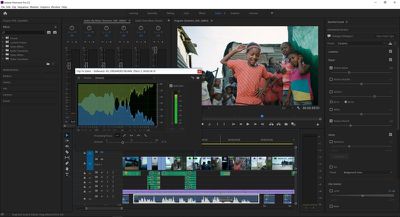 New Reduce Noise and Reduce Reverb sliders have been added to the Essential Sound panel, the Lumetri color panel features Selective Color Grading tools for more precise color editing, and there's a new Timecode shortcut entry.
Other new features include support for Google VR 180, Spatial Markers for easier editing of VR content, and a Theatre Mode for working within the Adobe Immersive Environment. Performance improvements have also been included, with hardware-based encoding and decoding for H.264 and HEVC along with improved image processing.
After Effects, used by designers to create motion graphics, is gaining simplified authoring for streamlined content editing, font controls for quickly changing fonts, new selective color grading tools for Lumetri Color, and new in-app learning tools for those who are new to After Effects.
Advanced Puppet pins for the Mesh Sculpting feature let users define position, scale, and rotation for a pin, offering better control for more organic movements, while a new Javascript engine enables faster expressions and Depth Passes allows for 3D objects to be positioned in space to add dimensional elements to videos.


There's a new native Mocha plug-in for After Effects, along with end-to-end support for VR 180, H.264 and HEVC video support on macOS, and performance and GPU optimizations to improve effects like Fill, Curves, Exposure, and Noise.
Audition includes new DeReverb and DeNoise effects for removing background noise and reverb with support for real-time adjustments, a revamped multitrack feature, one-click session management, and more.


Character Animator is gaining the Characterizer, a feature first unveiled at Adobe Max. Characterizer lets users import art and then record words and facial expressions to generate a new, unique character, automatically creating a puppet in just a few seconds.
Character Animator is also getting Replays for reusing facial expressions and signature moves, Magnets for letting puppets interact with objects, improved walk behavior, and a squashiness parameter for the physics behaviors.


Full details on all of the new features coming to Adobe's Premiere Pro, After Effects, Character Animator, and Audition software can be found on Adobe's website.
Adobe plans to roll out these Creative Cloud updates later in 2018.