Apple Pay Now Available in 10,000+ U.S. 7-Eleven Stores
7-Eleven today announced that Apple Pay and Google Pay are accepted at nearly all of its 10,000+ locations across the United States, following a rollout that began in August.
While many 7-Eleven retail locations have already started accepting Apple Pay, the rollout will continue throughout the month of September until "most U.S. stores" support the payments service.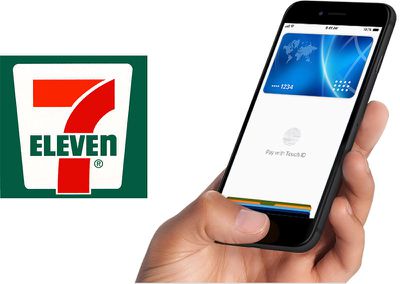 "The ability to pay with their smart device gives consumers one more reason to shop at 7-Eleven," said 7-Eleven CDO and CIO Gurmeet Singh of the Apple Pay launch.
7-Eleven also highlighted some of the technology improvements that it has introduced recently, including the 7-Eleven NOW app for placing on-demand orders with Apple Pay as a payment option, the 7Rewards loyalty program that allows customers to earn points for purchases, and the 7-Eleven Bot on Facebook Messenger to allow customers to get quick answers to questions.
Apple CEO Tim Cook first announced in July that Apple Pay support would be coming to 7-11 retail locations in the United States, and the wide availability of Apple Pay at 7-Eleven comes just in time for the launch of Apple's new 2018 iPhones.
To use Apple Pay at 7-Eleven stores, customers will need an iPhone 6, 6s, 6, 7, 8, 6 Plus, 6s Plus, 7 Plus, 8 Plus, SE, or X, and/or a compatible Apple Watch model.
Along with 7-Eleven, popular drugstore chain CVS, once an Apple Pay holdout, is also expected to begin accepting the payments service this fall.