Logitech today announced the launch of the MX Vertical, the company's most advanced ergonomic mouse to date.
The MX Vertical, which was designed in collaboration with ergonomic experts, combines ergonomic design elements with MX mouse performance for a mouse that cuts down on forearm strain and wrist pressure without impacting productivity.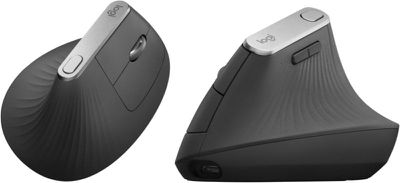 Up to 12 percent of computer users feel discomfort or pain on a daily basis according to a recent survey, and that's the consumer base Logitech is targeting with this product. Logitech tested dozens of prototypes and designs to come up with the ideal shape, weight, and glide that eases pain but doesn't impede mouse usage.
Logitech's MX Vertical Mouse features a 57 degree vertical angle, reducing muscular activity by up to 10 percent compared to a standard mouse. It puts the mouse into the same position you might use when shaking someone's hand, offering a thumb rest and a comfortable grip.


Logitech designed the mouse to fit a range of hand shapes and sizes, and there's a texturized rubber surface that provides an ideal amount of grip. A built-in 240mAh rechargeable battery provides up to four months of usage, and an included quick charge feature provides three hours of power with one minute of charging.
The mouse is highly customizable with an adjustable 4,000 DPI high-precision sensor, which allows for four times less hand movement compared to a standard mouse to reduce usage fatigue. A switch at the top of the mouse allows the cursor speed and accuracy to be easily adjusted from 400 DPI to 4,000 DPI, while Logitech software allows for further customization.
Easy-Switch functionality lets the mouse switch between two computers with no need to re-pair, and Logitech Flow software lets text, images, and files be copied and pasted between multiple machines with the MX Vertical.
Logitech's new MX Vertical Mouse is priced at $99.99 and will be available in retail stores starting in September. The mouse can be pre-ordered from the Logitech website starting today.