Numerous Apps Caught up in Apple's New App Store Review Policy to Ban Gambling-Related Apps
In an attempt to crack down on gambling-related apps in the App Store, Apple has today implemented a new App Review policy for individual developers, but many apps that are being banned as a result appear to have very little to do with gambling at all.
Our newsstand/news/magazine app just got removed from sale from the App Store 24 hours after our 3.0 update was approved. Reason given: gambling/fraudulent activity. We publish a magazine — nothing to do with gambling or fraud at all. 😞😢😲😱 https://t.co/ewu3mE5FG5 pic.twitter.com/vaKtLthvkW

— Wojtek Pietrusiewicz (@morid1n) August 9, 2018
Apple has been providing affected developers with the following reason for their app's removal from the App Store:

In order to reduce fraudulent activity on the App Store and comply with government requests to address illegal online gambling activity, we are no longer allowing gambling apps submitted by individual developers. The includes both real money gambling apps as well as apps that simulate a gambling experience.

As a result, this app has been removed from the App Store. While you can no longer distribute gambling apps from this account, you may continue to submit and distribute other types of apps to the App Store.
Apple finishes by saying that "only verified accounts from incorporated business entities may submit gambling apps for distribution on the App Store", and advises developers to visit the Enrollment page to learn more about enrolling an organization in the Apple Developer Program.
Apple just removed WatchPlay from the App Store for being a gambling app.

— Ziph0n (@Ziph0n) August 8, 2018
The reason that apps unrelated to gambling are being removed appears to be because the ban currently applies to any apps that allow users "unrestricted web access".
When developers submit their app to the App Store, a section called "Rating" asks them to rate their app's content based on a chart and identify how frequently the content appears.
The content marker "Unrestricted web access" in this section applies when a user can access any URL by opening a browser window from within the submitted app.
Ticking it automatically slaps the app with a 17+ age rating if it makes it to the App Store, because it gives users of the app the potential ability to circumvent parental controls.
However, on the face of it, Apple's gambling-related ban today looks to have overreached significantly in this regard. We've asked Apple for comment and will update this post if we hear more.
Top Stories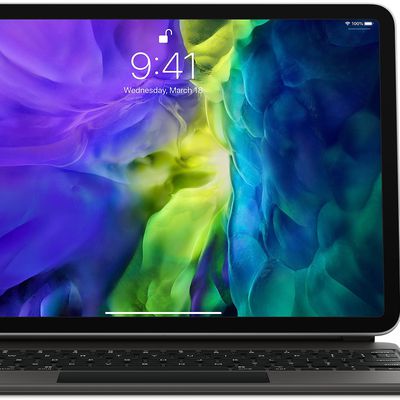 Apple today released iOS and iPadOS 13.4, the latest major updates to the iOS 13 operating system that was released in September. iOS and iPadOS 13.4 come two months after the release of iOS and iPadOS 13.3.1 with Screen Time Communication Limits. The iOS and ‌iPadOS‌ 13.4 updates are available on all eligible devices over-the-air in the Settings app. To access the updates, go to...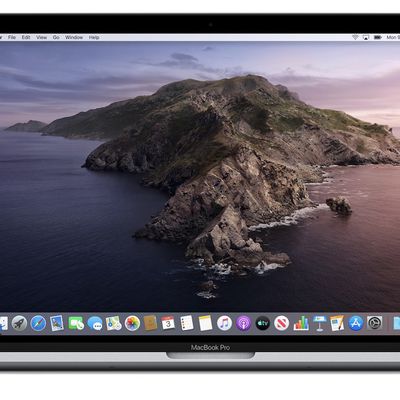 Apple today released macOS Catalina 10.15.4, the fourth update to the macOS Catalina operating system that was released in October. macOS Catalina 10.15.4 comes a couple of months after the release of macOS Catalina 10.15.3. macOS Catalina 10.15.4 can be downloaded from the Mac App Store for free using the Update feature in the System Preferences app. The macOS Catalina 10.15.4 update...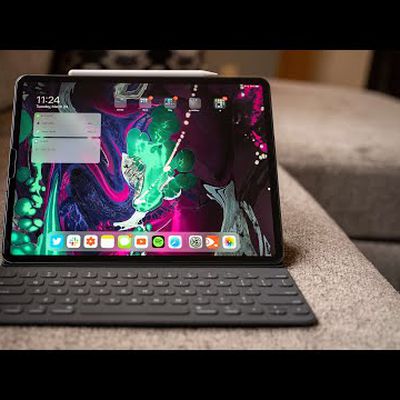 Apple last week introduced new 11 and 12.9-inch iPad Pro models, which are set to arrive in the hands of customers starting this week. Apple introduced a nifty new Magic Keyboard with trackpad alongside the new iPad Pro models that's coming in May, but it also debuted a new Smart Keyboard Folio, which is available now. We picked up the Smart Keyboard Folio for the designed for the 2020 iPad...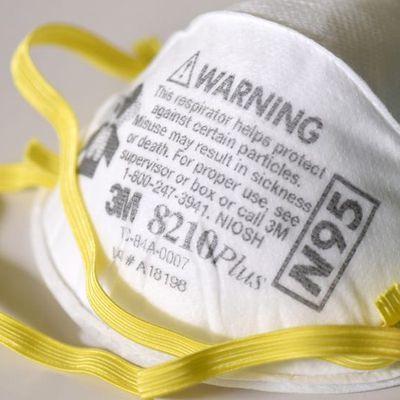 Apple over the weekend announced plans to donate millions of N95 masks to hospitals in the United States and Europe, and according to Apple CEO Tim Cook, Apple has been able to source more than 10 million N95 masks in the U.S. and millions more in Europe. Apple CEO Tim Cook said on Saturday that Apple was aiming to donate supplies to healthcare providers fighting COVID-19, and clarified...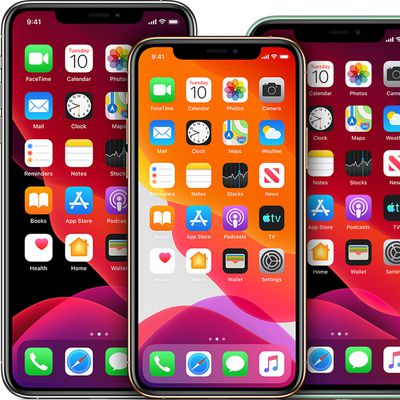 Apple is preparing to delay the launch of the 2020 iPhones expected to be equipped with 5G technology, according to sources with knowledge of Apple's plans that spoke to Japanese news site Nikkei. Apple has reportedly held internal discussions about the possibility of delaying the launch "by months" over fears of how well iPhones would sell in the current situation, and supply chain sources...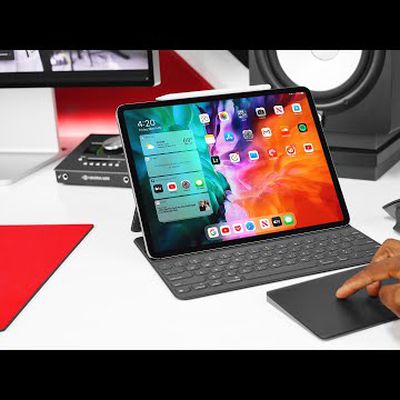 Apple last week introduced new iPad Pro models with an similar performing A12Z Bionic chip, an Ultra Wide camera for 0.5x zoom, and a LiDAR Scanner for enhanced augmented reality. The new iPad Pro models will begin arriving to customers and go on sale at select stores starting tomorrow, and ahead of time, the first unboxing videos have surfaced. The new iPad Pro models will be compatible with A...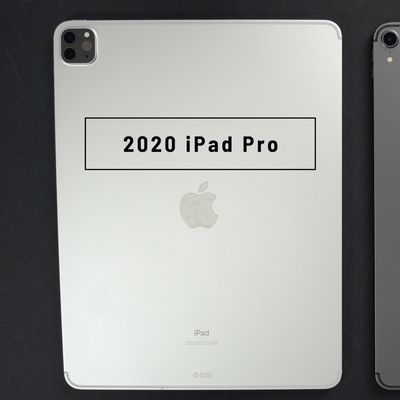 Apple last week announced new 11 and 12.9-inch iPad Pro models, and as of today, the new iPads are arriving to customers. We picked up one of the new 12.9-inch models and checked it out to see just what's new and whether it's worth buying. Subscribe to the MacRumors YouTube channel for more videos. When it comes to design, the new iPad Pro models are identical to the 2018 iPad Pro models, but ...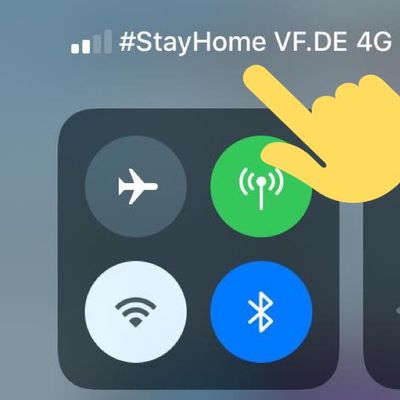 iPhone users in several countries who disconnect from WiFi on their devices will see a "Stay Home" message at the top of the Control Center where cellular network information is displayed. Image via Matt Navarra According to reports on Twitter, the status bar messages are showing up in countries that include Germany, Belgium, United Arab Emirates, Peru, Turkey, India, Luxembourg, Romania,...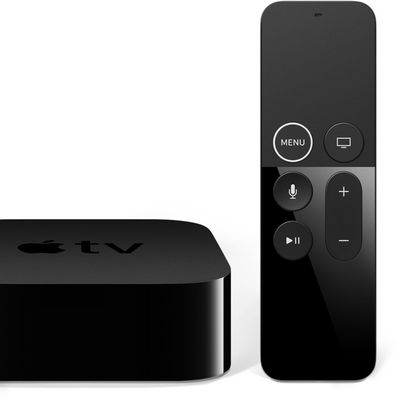 Apple today released tvOS 13.4, the third major update to the tvOS operating system that runs on the fourth and fifth-generation Apple TV models. tvOS 13.4 comes a couple of months after the release of tvOS 13.3.1. tvOS 13.4, a free update, can be downloaded over the air through the Settings app on the Apple TV by going to System > Software Update. Apple TV owners who have automatic software ...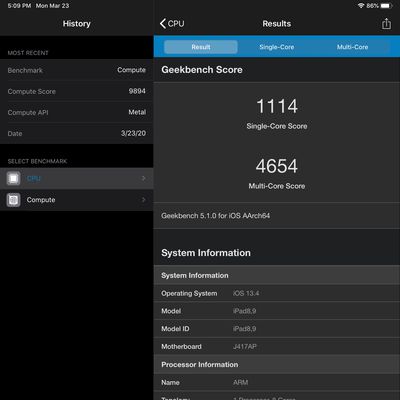 One of the new 2020 iPad Pro models equipped with an A12Z chip arrived early to a Reddit user, who did some benchmarking tests to see how it performs. In a Geekbench 5 test, the 11-inch 2020 iPad Pro earned a single-core score of 1114 and a multi-core score of 4654, which is close to the Geekbench scores of the 11-inch iPad Pro from 2018. The 11-inch iPad Pro has an aggregate single-core G...