2018 13-Inch MacBook Pro Teardown Finds Larger Battery, Redesigned Power Adapter, Tweaked Top Case and More
iFixit on Friday started a teardown on the new 2018 MacBook Pro, discovering a new silicone membrane underneath the keyboard keys, which the site believes is an ingress-proofing measure to prevent the keys from seizing up when exposed to small particulates.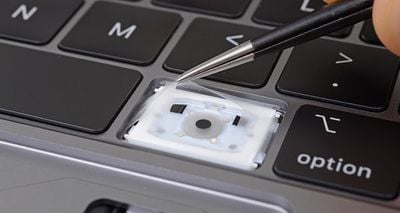 That was by far the most interesting bit of information about the new MacBook Pro models, but iFixit has now finished a teardown of the 13-inch MacBook Pro and has a few other tidbits to share.
Both the new 13 and 15-inch MacBook Pro models are using higher capacity batteries, with iFixit discovering a larger 58wh, 232.7 gram 6-cell battery in the 13-inch model, up from the 5 cell 196.7 gram battery in the 2017 model. Though the battery is heavier, the MacBook Pro has not changed in weight, nor has battery life changed.
It's not entirely clear where Apple made up for the extra weight, but iFixit says Apple "shaved some mass" from the top case of the device.


The speakers in the new machine are longer and narrower, bumping right up against the logic board, and an internal connector used for diagnostics has been removed.
Apple added a new T2 chip in the 2018 MacBook Pro, which is the same chip first used in the iMac Pro. It houses the Secure Enclave and allows for on-the-fly encryption in addition to consolidating several controllers including the system management controller, image signal processor, audio controller, and SSD controller.


It also enables "Hey Siri" functionality, a feature that wasn't even added to the iMac Pro. While the T2 chip is a new addition, the design of the heat sink system has not changed.
Apple shipped the 13-inch MacBook Pro with a new A1947 power adapter, which iFixit says offers more shielding and impact-resistant foam rubber inside, but with a plastic USB-C port rather than a metal one.


As with prior MacBook Pro models, the RAM, processor, and SSD are soldered down, and the keyboard, battery, and speakers are all one unit, which means none of these components are user replaceable and repairs are difficult. For that reason, iFixit gave the 2018 MacBook Pro a repairability score of 1 out of 10, the same score earned by the 2017 model.
For further details on all of the components in the new 13-inch MacBook Pro, make sure to check out iFixit's full teardown. For additional info on Apple's new 2018 MacBook Pro models, visit our MacBook Pro roundup.