2018 MacBook Pro Models Now Available for In-Store Pickup in the United States
Apple retail stores in the United States have received supplies of the new 2018 MacBook Pro models, which means stock configurations are available for in-store pickup and walk-in purchase as of today.
Both 13 and 15-inch models are available in many Apple retail stores around the country, but not all stores appear to have full stock at this time.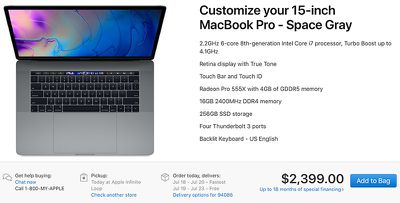 When the MacBook Pro was announced on Thursday, Apple said the new machines would be in retail stores later this week. The first orders placed on Thursday have also started arriving to customers, with Apple shipping some out as early as Friday.
In addition to the United States, the new 13-inch MacBook Pro is also available for in-store pickup in the UK, Germany, and France, but retail locations don't yet appear to be stocking the 15-inch model. In-store pickup is not yet available in Canada, Australia, or countries in Asia.
Pricing on the new 13-inch MacBook Pro begins at $1,799 for the entry-level 13-inch model with a 2.3GHz 8th-generation quad-core Core i5 chip, Intel Iris Plus Graphics 655, 8GB RAM, and a 256GB SSD.
Pricing for the 15-inch MacBook Pro starts at $2,399 for a 2.3GHz 6-core 8th-generation Core i7 chip, a Radeon Pro 555X graphics card, 16GB RAM, and a 256GB SSD.
Beyond the two stock 13 and 15-inch models, there are several customization options available for an additional price, with the top of the line 13-inch model priced at $3,699 for a 2.7GHz Core i7 processor, 16GB RAM, and a 2TB SSD.
The ultimate 15-inch MacBook Pro is priced at $6,699 for a 2.9GHz Core i9 processor, a Radeon Pro 560X, 32GB RAM, and a 4TB SSD.
Custom configurations are not generally in stock at most Apple retail stores and will need to be custom ordered from Apple's website. Custom orders placed today will arrive in approximately 10 days.