Play Impossible Begins Selling Smart 'Gameball' Through Apple After Inking Exclusive Retail Deal
Seattle-based startup Play Impossible has inked a retail deal with Apple for its smart inflatable "Gameball" that encourages people to play both single player and multiplayer games through a connected iOS and tvOS app (via GeekWire). The Gameball connects to iPhone, iPod, iPad, or Apple TV through Bluetooth, and games emphasize hand-eye coordination, agility, and creative thinking, according to the company.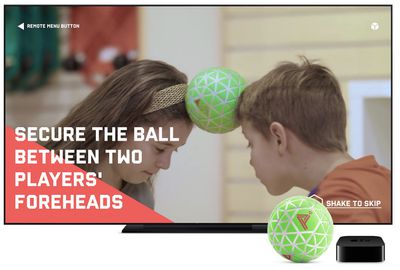 Games include "Splash," a virtual water balloon toss game where you have to keep the Gameball in the air longer by catching it as softly as possible since handling it roughly will result in a "popped" balloon. There's also "Jostle," a play on a game of keep away where you have to try to keep the Gameball as still as possible while friends attempt to make it move.
There are versions of Hot Potato and a volleyball-like "Rally," all aimed at ages 9 years and older. The device includes games related to STEM as well, encouraging younger players to grasp how physics plays into sports by keeping track of airtime, height, speed, or catch force in games like "Skyscraper" and "Sports Lab." Additionally, Gameball's session data can be exported from the iOS app to spreadsheet software for classroom activities.


Gameball records airtime as experience points every time you play a game, building into each user's own level system and achievements that are available to unlock. Experience can be gathered through playing the device's games or completing daily missions discoverable through the connected app.
In a profile shared today by
GeekWire
, the company confirmed that Gameball is now an exclusive to Apple Store locations across North America and on Apple.com, after previously being available at Target and Amazon. At Apple stores, Play Impossible CEO Brian Monnin explained that visitors will be able to go hands-on with the Gameball to better understand what it does:
"It's a place where people can come touch and play with the Gameball," said Play Impossible CEO Brian Monnin. "In a few seconds, you fall for it."
Gameball sells for $99.95 in Green and Purple on Apple.com. The device supports play sessions that last for up to 2 hours, and an included Rapid Charger refuels the Gameball in approximately 20 seconds.