Japanese Entrepreneur Sues Apple Over Key Flicks and 3D Touch on iPhones and iPads
Toshiyasu Abe, a resident of Vancouver, Washington, has filed a lawsuit against Apple in Oregon district court this week, accusing the company of infringing upon his patent with Key Flicks and 3D Touch on select iPhone and iPad models.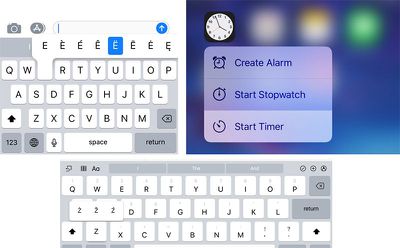 The patent in question is No. 6,520,699, granted by the United States Patent and Trademark Office in February 2003.
Mr. Abe has been an entrepreneur and inventor for nearly his entire life. In the early 2000s, Mr. Abe dedicated substantial time and resources into developing, promoting, and protecting the then-novel user interface device claimed in United States Patent No. 6,520,699, titled "KEYBOARD."
Like most patents, the description and claims for this one are very long and exhaustive, but from a high level, it at one point refers to a "user interface device" comprising "a plurality of buttons displayed on a touch sensitive screen," with "each button being associated with a plurality of characters or functions."
Here's how the patent is described in the complaint, obtained by MacRumors:
The '699 patent covers at least a touchscreen device having a plurality of buttons displayed on the screen, each button being associated with a plurality of characters or functions. When a user touches or taps on a button, the device will respond by displaying a plurality of characters or functions associated with that button. The device can also detect an applied force and direction of motion, which enables a user to simply flick or swipe their finger toward the desired character or function to thereby select that character or function.
There are several other embodiments of the invention, including physical thumb control pads on a mobile phone, notebook, or steering wheel in a vehicle, each with a multitude of pressure-sensitive, geometrically-shaped keys.

Various embodiments of the patent
The touchscreen embodiment does sound similar to how accented characters are managed on the iPhone keyboard. When a user taps on the E key, for example, a menu appears with diacritics such as È, É, Ê, and Ë. The user then slides their finger over the desired character and releases to input it in a text field.
Abe believes Apple's infringement extends to the Flick Keyboard, introduced in iOS 11 for select iPad models. When enabled, the feature allows an iPad user to simply tap and swipe down on a key to input a number or symbol. If a user taps and swipes down on the D key, for example, a $ symbol is inputted.
The complaint alleges that 3D Touch also infringes upon his patent, given its pressure-sensitive, multifunction attributes.
Apple is also said to be further inducing infringement by aiding and abetting the development of third-party iPhone keyboards and apps that implement flick-style keys and 3D Touch, available through the App Store. Abe, who is Japanese, said flick input has particularly gained popularity in Japan.

Japanese keyboard for iPhone
The accused products include at least the following iPad and iPhone models sold in the United States: iPhone 6s, iPhone 6s Plus, iPhone 7, iPhone 7 Plus, iPhone 8, iPhone 8 Plus, iPhone X, iPad Air, iPad Air 2, iPad mini 2, iPad mini 3, iPad mini 4, 9.7-inch iPad, 9.7-inch iPad Pro, and the 10.5-inch iPad Pro.
The complaint alleges that Apple has known of Abe's patent since at least as early as 2009, when he first gave written notice of its infringement. The plaintiff allegedly exchanged a number of emails with Apple, and engaged in at least one phone call with the company's in-house counsel, but no agreement was reached.
Then, in 2017, the complaint alleges that Abe discovered an increase in Apple's infringing activities relating to the release of iOS 11, prompting him to send Apple another patent infringement notification letter last December. Apple and Abe communicated again, through counsel, but nothing transpired from the talks.
Abe is seeking damages adequate to compensate him for Apple's alleged infringement of his patent, in an amount to be proven at trial, but no less than a reasonable royalty. The court still has to agree to hear the case.