PSA: Apple Maps Has Been Down Several Hours, Directions and Search Not Working [Update: Resolved]
If you are attempting to navigate with Apple Maps right now, you may be unable to do so, as the service appears to be experiencing downtime.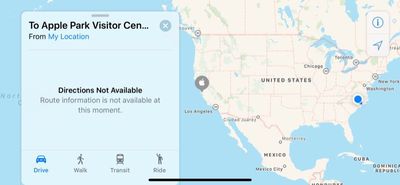 "Directions Not Available," the app says, when attempting to search for or navigate to destinations. "Route information is not available at this moment."
The issue appears to be widespread, with many users reporting that Apple Maps is down across the United States, Canada, and other countries. The outage affects all platforms with Apple Maps, including the iPhone, iPad, Mac, Apple Watch, and CarPlay.
iPhone, iPad, and Mac users can simply use an alternative such as Google Maps or Waze in the meantime, but CarPlay doesn't currently support third-party mapping apps, something that is changing with iOS 12.
Apple has yet to update its system status page to reflect any issues. We'll update this article if that changes or when the issues are resolved.
Update 8:18 AM: Apple has now acknowledged and is "investigating" ongoing issues with Maps Search and Routing & Navigation, according to its system status page. Apple says "all users are affected."
Update 10:13 AM: Directions appear to now be working in Maps, although Apple has yet to update its status page to confirm the issues have been resolved.
Update 10:28 AM: Apple has updated its status page to note the issues have been resolved as of 10:05 AM Pacific Time.