AirPlay 2 Coming to Sonos Speakers in July
Sonos is planning to implement AirPlay 2 support for its speakers starting this July, the company announced today at an event unveiling new technology.
Sonos has previously said that AirPlay 2 will be available on the Sonos One, the second-generation Play:5, the Playbase, and future products.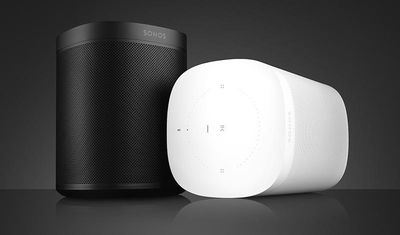 Older Sonos speakers will not support AirPlay 2 on their own due to processor limitations, but they can be paired with the Playbase, the Play:5, or the Sonos One to enable AirPlay 2 functionality. A Sonos Play:1 grouped with a Sonos One, for example, will support AirPlay 2.
AirPlay 2-enabled Sonos speakers will also work with other AirPlay 2 speakers such as the HomePod, and Apple Music will work on Sonos devices using Siri on a paired iPhone, according to Sonos.
Sonos today also announced that Amazon Alexa works with its devices starting now in multiple countries, and the company unveiled a new smart speaker for the living room -- the Sonos Beam. The Sonos Beam, priced at $399, is a smart, compact soundbar designed for the TV, and it too will support AirPlay 2 and Siri. The Sonos Beam and other AirPlay 2 Sonos speakers are the first that have dual-assistant support, working with both Alexa and Siri. Google Assistant support is also in the works.
Apple first enabled AirPlay 2 in the iOS 11.4 update, released in late May, and following the release, Apple published a list of all of the speakers that have announced plans to implement support for AirPlay 2. AirPlay 2 will be enabled on Sonos speakers through a software update.
Pre-orders for the Sonos Beam are available starting today from the Sonos website, with Sonos planning to launch the speaker in July.