Apple Adds AirPlay 2 Section to HomeKit Site, Outlines Upcoming AirPlay 2 Speakers
Apple today updated its HomeKit site, which is where the company lists all of the available accessories and smart home products that offer HomeKit support, with a new AirPlay 2 section.
This section of the site lists all of the upcoming speakers and receivers that will be updated with AirPlay 2 support now that the AirPlay 2 protocol is available.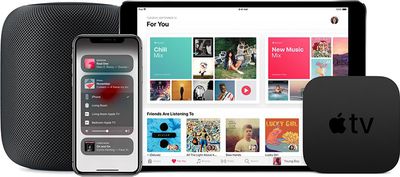 AirPlay 2 devices include the HomePod, of course, which is the first and only AirPlay 2 device available following today's iOS 11.4 update, along with speakers from companies that include Bang & Olufsen, Denon, Libratone, Marantz, Naim, and Sonos.
Sonos, perhaps the most popular and well-known company introducing AirPlay 2 support, plans to add it to the Sonos One, the Play:5, and the Playbase. AirPlay 2 will work with other Sonos speakers, but one of these three Sonos devices will be required.
Today's list is limited to manufacturers who have already pledged support for AirPlay 2, but it is likely to grow as additional companies announce AirPlay 2 functionality. A full list of speakers gaining AirPlay 2 support is below:

Apple HomePod
Beoplay A6
Beoplay A9 mk2
Beoplay M3
BeoSound 1
BeoSound 2
BeoSound 35
BeoSound Core
BeoSound Essence mk2
BeoVision Eclipse (audio only)
Denon AVR-X3500H
Denon AVR-X4500H
Denon AVR-X6500H
Libratone Zipp
Libratone Zipp Mini
Marantz AV7705
Marantz NA6006
Marantz NR1509
Marantz NR1609
Marantz SR5013
Marantz SR6013
Marantz SR7013
Naim Mu-so
Naim Mu-so QB
Naim ND 555
Naim ND5 XS 2
Naim NDX 2
Naim Uniti Nova
Naim Uniti Atom
Naim Uniti Star
Sonos One
Sonos Play:5
Sonos Playbase
None of these speakers are available with AirPlay 2 at the current time, but many of them will gain support for the feature following firmware updates that will likely start trickling out now that iOS 11.4 has launched.