Apple to Sell Subscriptions to Streaming Services Through its TV App
Apple is planning to offer subscriptions to select streaming TV and video services through its dedicated TV app that's available on the iPhone, iPad, and Apple TV, reports Bloomberg.
The TV app already aggregates television and movie content from a range of different providers into one easy-to-access place, so offering subscriptions is a natural evolution of Apple's efforts to simplify and improve the television watching experience.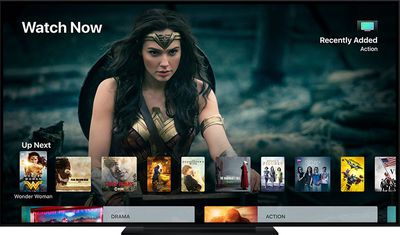 Right now, while you can access content from hundreds of apps and cable providers, many require a premium subscription that must be obtained directly from the provider. Services like HBO, Showtime, Starz, Netflix, and more, for example, all require subscriptions, which must be purchased from within a third-party app or website.
Apple is going to offer the TV app subscription options as an alternative to requiring customers to subscribe to various video services from multiple apps and content providers. It will streamline content acquisition for customers, but it will also bolster the company's rapidly growing services business.
Apple is said to be planning to introduce the new subscription feature "in the next year."
There's no word on how Apple's own original programming efforts will factor in to the subscription service. Apple has more than a dozen television shows in the works, and at the current time, it's still unclear whether Apple is building a dedicated service for the content or if it will debut on iTunes or Apple Music.