Cardhop, the popular contacts management app from Flexibits, makers of Fantastical, today received its first major update to introduce new features and new functionality.
For those unfamiliar with Cardhop, it's designed to turn the standard Apple Contacts app on the Mac into an interactive communications hub, providing you with tools to email, message, tweet, and interface with all of your contacts from one central location.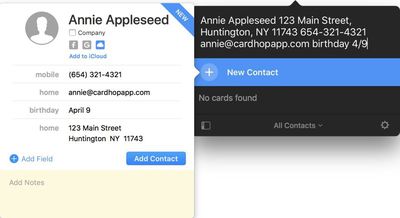 Today's 1.1 update to Cardhop introduces Smart Groups, a feature that lets you create a group of contacts based on specific search criteria that updates automatically from details like company, location, link domains, and more.
So, for example, if you add several contacts from the same company, you can have them all grouped up in one easy to access spot.
With printing support, you can print customized envelopes, labels, and lists of contacts, and there's now an option to include a timestamp when you use Cardhop's "Notes" feature to add details about a contact.
There are new template preferences for customizing fields and labels for contacts, and when you type into a name field, you'll now see suggestions for other names in your contacts list.
Finally, today's update introduces full support for French, German, Italian, Spanish, and Japanese, plus it includes a range of bug fixes and performance improvements.

"We're very excited to present our first major update for Cardhop," said Michael Simmons, Co-founder of Flexibits. "With 5 new languages, printing, smart groups, and much more, Cardhop is even more so the contacts app you'll actually want to use."
Cardhop for Mac can be downloaded from the Mac App Store for $19.99. [Direct Link] It's also available from the Flexibits website, where you can get a free 21 day trial to test it out.