Apple Seeds Third Beta of macOS High Sierra 10.13.5 to Developers [Public Beta Available]
Apple today seeded the third beta of an upcoming macOS High Sierra 10.13.5 update to developers, two weeks after seeding the second beta and a month after releasing the macOS High Sierra 10.13.4 update.
The new macOS High Sierra 10.13.5 beta can be downloaded through Apple Developer Center or the Software Update mechanism in the Mac App Store with the proper profile installed.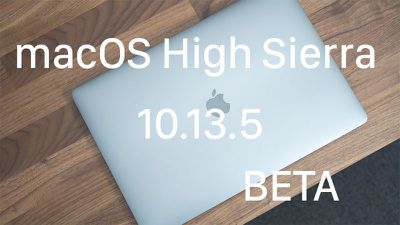 macOS High Sierra 10.13.5 introduces support for Messages on iCloud, a feature that was previously present in macOS High Sierra 10.13.4 betas before being pulled ahead of the release of the update. Messages on iCloud is also available in iOS 11.4.
The Messages on iCloud feature is designed to store your iMessages in iCloud for improved syncing. Right now, incoming iMessages will be sent to all devices where you're signed into your Apple ID, but it's not true cloud-based syncing because your old messages don't show up on new devices nor does deleting a message remove it from all of your devices, both features enabled through Messages on iCloud.
Messages on iCloud also allows your older iMessages to be stored in iCloud rather than on your iPhone, iPad or Mac, saving valuable storage space. Older attachments are also stored in iCloud.
The update also likely includes bug fixes and performance improvements for issues that weren't addressed in macOS High Sierra 10.13.4, but as Apple does not provide detailed release notes for macOS High Sierra updates, we may not know exactly what's included until the new software is provided to the public.
No major outward-facing changes were found in the first two betas of macOS High Sierra 10.13.5, but we'll update this post should any new features be found in the third.
The previous macOS High Sierra 10.13.4 update brought support for external graphics processors (eGPUs) along with Business Chat in Messages and several other bug fixes and smaller feature improvements.
Update: Apple has made a new public beta of macOS High Sierra 10.13.5 available to its public beta testing group.