Google launched its redesigned Gmail web interface today, introducing several new features including some the company trialed in its Inbox for Gmail app. The launch is a phased rollout, so not all users will have immediate access to all the changes listed below, and those who do will need to opt-in to them.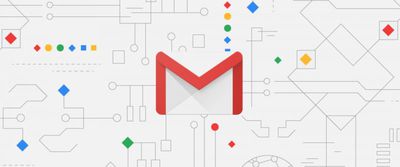 The major visual difference comes in the form of a new right-hand sidebar that provides multiple options for customization. Users can choose to add Google Calendar, Google Keep, or Google Tasks in the side window, or collapse it completely and focus only on their inbox. Likewise, the left-hand panel can be collapsed now, too.
The inbox view has also been updated with the ability to perform actions on messages without opening them. Hovering over an email with the mouse cursor displays buttons to archive, delete, mark as read, and a new "snooze" feature.


Opting to snooze an email hides the message until later in the day, tomorrow, or later in the week. The function has been brought over from Inbox for Gmail, but currently there doesn't seem to be any way to activate it for an email that's currently open.
Google has also introduced a new AI-powered feature that "nudges" the user to follow up and respond to messages it thinks are important, offering up quick reminders for them to take action. Also, the smart reply function has been brought over from the Gmail mobile apps, allowing users to respond to emails quicker.


In addition, Gmail is rolling out a number of security/privacy features in the coming weeks, one of which is a new confidential mode. This lets the sender set a time-limit in which a message can be accessed, should the email contain sensitive information. It works by sending a link to the content in your inbox that the recipient clicks, rather than sending the content in the email itself.
There will also be a new two-factor authentication (2FA) option for confidential individual messages, which means recipients can be asked to authenticate with a passcode via SMS message before they're granted access to the content of an email.


Elsewhere, Gmail now includes integrated rights management (IRM), which allows business users to block the forwarding, copying, downloading, or printing of specific messages, offering a welcome extra line of defense against accidentally sharing certain emails.
Also new under the hood are a series of machine learning algorithms to help protect users from phishing scams. The user-facing element of this redesign comes in the form of warning banners and color-coded alerts.
In tandem with the web interface redesign, Google is also launching a new Google Tasks mobile app later today on both iOS and Android. For more information on the new Gmail web features, click here.