Seven Apple executives this week received major stock awards after restricted stock units or RSUs awarded in 2014 and 2015 vested.
Apple issues RSUs to its executives as bonus compensation, with the restricted units vesting after a set period of time as long as the employee stays with the company.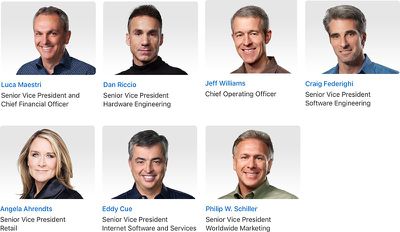 Phil Schiller, Dan Riccio, Jeff Williams, and Eddy Cue all received 130,117 shares, worth more than $22 million at Apple's current price per share. Luca Maestri, Angela Ahrendts, and Craig Federighi all received ~77,000 shares.
Shares received by each were originally awarded on March 3, 2014; October 17, 2014; and October 5, 2015, with Riccio, Williams, Cue, and Schiller receiving stock from all three dates and Maestri, Ahrendts, and Federighi receiving stock from the October awards. The March 2014 award has now fully vested for employees who received it, while employees who received the other two rewards will see additional shares vest on April 1, 2019 and April 1, 2020.
A portion of each award was withheld by Apple to satisfy tax withholding requirements on vesting of restricted stock units.