The Apple Watch Series 3 with LTE is still available in a limited number of countries, even months after its launch, as Apple works to establish connectivity deals with various carriers.
Starting on April 5, customers in Thailand will be able to purchase an LTE Apple Watch Series 3 model through TrueMoveH, according to Apple's cellular Apple Watch availability page.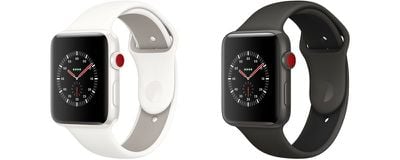 Apple users in Thailand have previously been able to purchase WiFi + GPS Apple Watch Series 3 models, but the LTE version has been unavailable in the country.
With the addition of Thailand, Apple Watch Series 3 models with LTE connectivity will be available in more than a dozen countries and territories, including the United States, Canada, Puerto Rico, Australia, France, Germany, Hong Kong, Japan, Singapore, Switzerland, and the United Kingdom.
Apple Watch Series 3 LTE models were initially available in China at launch but have been discontinued indefinitely as Apple attempts to work out regulatory issues. Apple expects LTE Series 3 models to return to the country at some point in 2018.
While the Apple Watch with LTE is limited in availability, the Apple Watch Series 3 with WiFi and GPS is available in many more countries around the world.