The Chicago landlord that owns the building where Apple's new flagship Michigan Avenue Store is located has put it up for sale, according to The Wall Street Journal.
Walton Street Capital purchased the 20,000-square-foot Apple Store, a 35-story office building, and a retail building next door for $370 million in 2017, and is now planning to sell the store and 10,000 square feet of retail space for $175 million while holding on to the office building.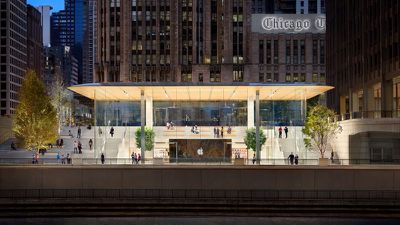 Demand for retail space is declining due to the decreasing value of malls and shopping centers as consumers turn to online shopping, but according to The Wall Street Journal, Apple Stores are the "gold standard in the retail world" because of the high foot traffic they attract to nearby locations.
A report by Green Street Advisors in 2016 found that average sales for 220 malls with Apple Stores came to $710 per square foot, compared with $630 per square foot for malls without Apple Stores. The study was based on a database that covered about 1,400 properties.
When the Apple Store sells to a new buyer, Apple doesn't have to worry about rent. Apple is well aware that its stores attract a high number of customers and it uses that as leverage to get lower rent rates. Apple is paying rent that's "well below" the average $400 to $500 charged per square foot for nearby Michigan Avenue retail space.
Apple's Michigan Avenue store is located right alongside the Chicago River, and its construction was an ambitious project for the company. It includes 32-foot glass facades and an enormous 111-by-98 foot carbon fiber roof. Like most of Apple's modern stores, it includes indoor trees, a dedicated seating area for Today at Apple sessions, a Genius Grove for getting help with products, and an area where customers can view and try Apple devices and related accesories.
Designed by longtime partner Foster + Partners, the store is meant to pay homage to Chicago's iconic Prairie Style homes designed by architect Frank Lloyd Wright.