Quick Takes: iTunes LP Submissions Ending, Free Apple Music With Select New Vehicles, and More
In addition to our standalone articles covering the latest Apple news and rumors at MacRumors, this Quick Takes column provides a bite-sized recap of other headlines about Apple and its competitors on weekdays.

Tuesday, March 6
Apple confirms it will stop accepting new iTunes LP album submissions at the end of March: Apple says existing LP albums will not be removed and will remain available to download via iTunes on Mac or PC.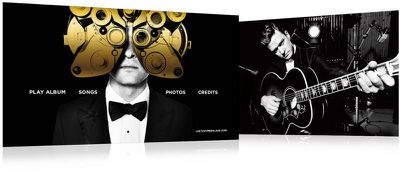 Commentary: iTunes LPs, introduced in 2009, are interactive albums with multimedia such as lyrics, liner notes, artist and band photos, performance videos, and more. A lot of this content can now be found in Apple Music, so it's no surprise that Apple is beginning to phase out this long-forgotten feature.
Get up to six months of free Apple Music with the purchase of a new Chrysler, Dodge, Fiat, Jeep, or Ram: The offer is available between May 1, 2018 and April 30, 2019. CarPlay is a standard feature in all of those vehicle brands, while some models include built-in BeatsAudio speakers.


Commentary: The six-month offer only applies to first-time Apple Music subscribers. If you've already taken advantage of Apple Music's standard three-month trial period, you'll only receive an additional three months of complimentary service. Volkswagen is also offering a similar deal in Europe.
Microsoft begins accepting pre-orders of new Surface Pro with LTE Advanced: The new Surface Pro gains cellular connectivity, with support for 20 LTE bands, but it's otherwise the same as the previous generation. The tablet-notebook hybrid starts at $1,149, but only a higher-end $1,449 model is available currently.


Commentary: While the Surface Pro isn't part of Apple's ecosystem, the tablet has received favorable reviews from The Verge and CNET, and some customers may prefer its versatility over the cellular-enabled iPad Pro.
House near Apple Park smashes Sunnyvale real estate record: A two-bedroom, one-bathroom house in Sunnyvale, near Apple's headquarters in Cupertino, California, recently sold for $2 million in cash. At $2,358 per square foot, it's reportedly the highest price per square foot for a home in Sunnyvale ever.


Commentary: Sunnyvale is situated in the heart of Silicon Valley, where companies like Apple, Google, and Facebook are headquartered. With these tech giants often offering six-figure salaries, it's no surprise that real estate prices continue to rise in the area. The previous record was $2,175 per square foot, according to the MLS.
For more Apple news and rumors coverage, visit our Front Page, Mac Blog, and iOS Blog. Also visit our forums to join in the discussion.