MoviePass App Tracks Your Location Before and After Movies [Updated With Statement]
MoviePass, the app that allows you to watch a movie in theaters each day for the low price of $10 per month, is unsurprisingly planning to use your location data to make money.
As TechCrunch points out, MoviePass CEO Mitch Lowe recently told an audience at a Hollywood event that MoviePass is collecting and monetizing through location information.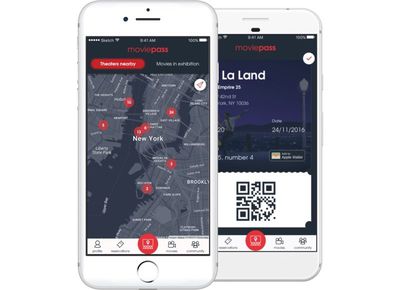 "We get an enormous amount of information. We watch how you drive from home to the movies. We watch where you go afterwards," said Lowe.
MoviePass, which is owned by a data analytics firm, has made no secret of the fact that it plans to use data generated from subscribers to make money. "There are dozens and dozens of businesses like ours that invest in building a large subscriber base," Lowe told Recode in early February. "Netflix buys $8 billion of content a year, and believe me, they have to borrow the money to do it. Or companies like Facebook -- it's free, but they're monetizing all the advertising and all the data about you. That's exactly what we are [doing]."
While MoviePass has been transparent about how it plans to make money, most people are likely not aware of the extent of the data the company collects. As TechCrunch says, it's likely users assumed MoviePass would collect data like ticket sales, movie choice, promotions, and more, rather than detailed location data that tracks your movement before and after seeing a film.
MoviePass's privacy policy says that the app requires access to location when selecting a theater, and that it makes a single request for location coordinates. There's no mention of ongoing tracking, so it's not clear if this is something the MoviePass app is doing on the sly, if such tracking has yet to be implemented, or if the CEO's comments were exaggeratory.
MoviePass(R) requires access to your location when selecting a theater. This is a single request for your location coordinates (longitude, latitude, and radius) and will only be used as a means to develop, improve and personalize the service. MoviePass(R) takes information security very seriously and uses reasonable administrative, technical, physical and managerial measures to protect your location details from unauthorized access. Location coordinate data is transmitted via Secure Socket Layer (SSL) technology into password-protected databases.
iOS users who are concerned about MoviePass collecting excessive data can restrict access to their location on the device level. To do so, open the Settings app, navigate to Privacy, and then choose Location Services. From there, select MoviePass.
You can opt to change your location setting to "Never," "While Using the App," and "Always." You'll probably want to leave it on "While Using the App," as location information is required when making a ticket purchase. Alternatively, you can toggle "Never" on and off whenever you use the MoviePass app for further security.
MoviePass charges $9.95 per month (or $7.95 if you pay for an annual subscription) and allows customers to see a 2D movie each day. MoviePass provides customers with a debit card that's loaded with money to make ticket purchases, so it works at more than 90 percent of theaters across the United States.
With ticket prices that often exceed $10 in certain areas for a single movie, MoviePass is a solid deal, if you don't mind sacrificing your privacy for cheaper movies.
As of January 2018, MoviePass had 1.5 million subscribers. The MoviePass app can be downloaded from the App Store for free. [Direct Link]
Update: MoviePass told The Verge that it is "exploring" utilizing location-based marketing to "enhance the overall experience by creating more opportunities for subscribers to "enjoy all the various elements of a good movie night." The company says it has no intentions to sell this data at the current time.
At MoviePass our vision is to build a complete night out at the movies. We are exploring utilizing location-based marketing as a way to help enhance the overall experience by creating more opportunities for our subscribers to enjoy all the various elements of a good movie night. We will not be selling the data that we gather. Rather, we will use it to better inform how to market potential customer benefits including discounts on transportation, coupons for nearby restaurants, and other similar opportunities. Our larger goal is to deliver a complete moviegoing experience at a price anyone can afford and everyone can enjoy.
Update 2: In an update released on March 7, MoviePass said it "removed unused app location capability."