Feral Interactive today announced that epic historical strategy game Thrones of Britannia will be released for macOS "shortly after" the upcoming Windows release on April 19.
Originally developed by Creative Assembly, the game is the first in the new Total War Saga series of standalone titles inspired by great turning points in history.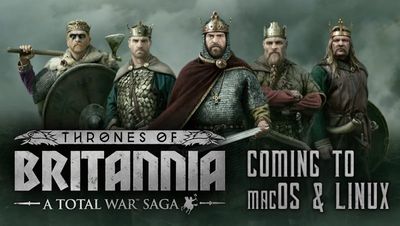 Thrones of Britannia is set in the British Isles in 878 AD, as Anglo-Saxons, Gaelic clans and Viking settlers vie for supremacy. Players will command one of ten factions, each with a unique branching narrative, and make decisions that reshape history in unexpected ways.

Combining huge real-time battles with engrossing turn-based strategy, Thrones of Britannia challenges players to build and defend a kingdom. Players will forge alliances, manage settlements, raise armies and embark on a campaign of conquest from the snowbound highlands of Gaelic Scotland to the green fields of Anglo-Saxon Kent.
Focusing on a specific historical flashpoint, Thrones diverges from typical Total War fare, and is expected to feature some changes to the series' standard game mechanics, including variations in building construction and military training to better reflect geographical differences.


No specific release date or system requirements are available yet, but today's announcement is a good indicator that Feral is aiming to keep pace with new cross-platform releases. Thrones of Britannia can be pre-ordered now for $35.99/£26.99 from the Feral Store or Steam.