iTunes Chief Eddy Cue Says Apple Will Share Details on its TV Plans in 'a Little Bit of Time'
Apple iTunes chief Eddy Cue today spoke at Variety's 2018 Pollstar Live event in Los Angeles, California, where he discussed Apple Music and the Music Business with Variety Executive Music Editor Shirley Halperin.
Cue's talk wasn't streamed live for viewers at home to watch, but several attendees shared Cue's major talking points on Twitter.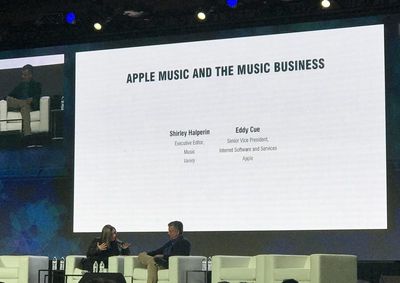 Unsurprisingly, some of the discussion focused on the HomePod, which is officially launching this Friday.
According to Cue
, the HomePod will use its built-in A8 chip and AI algorithms to automatically adjust the bass, treble, and other settings on a song-by-song basis, so there won't be a need for users to fuss with settings.
In fact, Apple is confident enough in the HomePod's ability to make these adjustments that there are no built-in options to allow users to manually adjust sound.
Cue didn't want to share information about Apple's upcoming original programming plans, despite the fact that the company has inked deals for eight TV shows so far. He did, however, say that we may hear "a lot more" about Apple's plans in "a little bit of time," suggesting Apple will share details on its television goals later this year.
Details are light on the other points that Cue covered in his talk, but should more information surface on what he had to say, we'll update this post.