Apple Allows Behind-the-Scenes Look Into Audio Lab Used to Test HomePod, AirPods, and More
At the same time that reviews launched this morning for Apple's upcoming HomePod smart speaker, a few websites also shared a behind-the-scenes glimpse into the audio lab where Apple tested the device. Apple invited journalists into the lab last week, and Jim Dalrymple of The Loop shared his experience in a post today.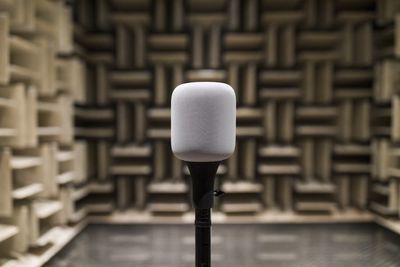 Apple senior vice president of worldwide marketing, Phil Schiller, noted that the lab where HomePod was tested wasn't only for HomePod, as Apple also focuses on speakers found in iPhone, iPad, Mac, and AirPods, as well as the audio performance of Siri and Apple TV. For HomePod, Apple vice president of hardware engineering, Kate Bergeron, said the project began six years ago with a "small, focused team."
"HomePod started by us asking a question: What would it mean if we decided to design a loud speaker where we could put it in any room, and that room wouldn't affect the sound quality," said Bergeron.
Once testing began, Apple used multiple chambers to study HomePod. The first became one of the largest anechoic chambers in the United States (first image), allowing Apple engineers access to a non-reflective and echo free room to put the speaker's sound through its paces.


Another room was made to focus on voice detection and Siri recognition, while the third was a "Noise and Vibration" chamber (second image) built to detect and help prevent electronic noises and buzzing from escaping HomePod when it's plugged in but not playing music.

The chamber itself sits on 28 tons of concrete. The panels are one foot thick which is another 27 tons of material, and there are 80 isolating mounts between the actual chamber and the concrete slab it sits on.

The chamber is designed to be -2 dBA, which is lower than the threshold of human hearing. This basically provides complete silence.
Because the audio lab was built to test many products in addition to HomePod, Apple's senior director of audio design and engineering, Gary Geaves, hinted that progress made on the speaker in the lab has led to advances in other, unnamed Apple devices. "There's been certain catalysts in the development of HomePod that are feeding other products," said Geaves. "That's one of our advantages—we work on a bunch of different areas of audio."
HomePod pre-orders began on January 26, and remain available for launch day delivery of February 9 in the United States, although Apple Store pickup has now become unavailable in all three launch countries. For the U.K. and Australia, delivery estimates have also slipped today, with the current shipping date marked as February 12.
To read more about Apple's HomePod audio lab, be sure to check out The Loop's full article.