Apple today released a major 10.4 update for its professional audio editing software Logic Pro X, introducing a huge list of new features for musicians and sound editors.
A new Smart Tempo system is designed to keep multiple tracks in sync regardless of their original tempo, allowing content to be combined together automatically. It lets users record into Logic Pro X using an attached instrument sans metronome or click track, with the software analyzing your performance to create a tempo map for the project.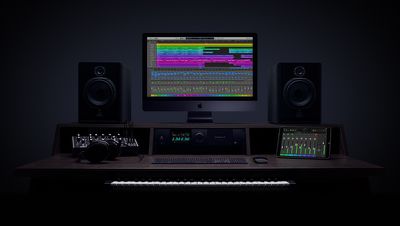 Several new plug-ins are included in Logic Pro X 10.4, including ChromaVerb, an algorithmic reverb with a colorful visual component, Step FX for rhythmic multi-effect processing, and Vintage EQ with three vintage analog EQ models from the 1950s to 1970s. A full list of all the new plug-ins is below:
- ChromaVerb is a sophisticated new algorithmic reverb with a colorful, interactive interface for creating rich acoustic spaces
- Space Designer is a convolution reverb with a new design and a scalable, Retina interface
- Step FX adds rhythmic multi-effect processing using 3 powerful step sequencers and an X/Y pad
- Phat FX makes your tracks bigger and bolder using 9 effects that add warmth and punch to your sounds
- The Vintage EQ Collection provides 3 accurate models of vintage analog EQs from the 1950s to the 1970s
- Studio Strings and Studio Horns are deeply sampled, realistic ensemble instruments with custom articulation controls
- Mellotron is now available as a standalone instrument plug-in
- Retro Synth now offers 18 different filter models
Two additional drummers with roots and jazz-influenced styles are included, and there are two new vintage brush kits for Drum Kit Designer. Apple has also added more than 800 new loops in a variety of instruments and genres, plus the New Visions library for Alchemy has gained 150 cinematic presets.
Other new features include an undo option for mixer and plug-in actions, an option for saving favorites in the File Browser, support for looping audio files in the Loop Browser, and a new universal design for controlling articulations for a more consistent interface across Logic and third-party instruments.
Today's Logic Pro X update is free for existing users. New users can download Logic Pro X from the Mac App Store for $199.99. [Direct Link]