iCloud Messages Returns to iOS in First Beta of iOS 11.3
Apple in iOS 11 promised a new Messages in iCloud feature that will allow customers to save their iMessages in iCloud and sync them across devices. Messages in iCloud was pulled from iOS 11 during the beta testing period, with Apple promising to reintroduce it at a later date.
It was not clear if and when the feature was actually going to be implemented, though, as Apple stripped all mentions of it from the iOS 11 website.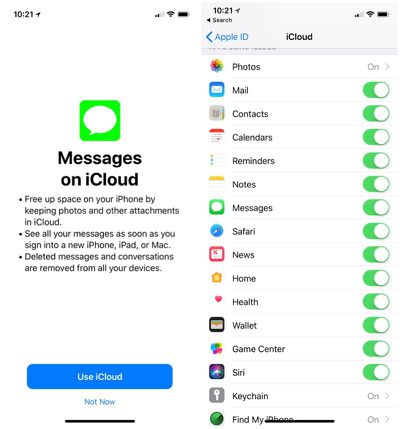 As of iOS 11.3, Messages in iCloud is back and is available for "testing and evaluation purposes," marking the official return of the feature. According to Apple's release notes, once iOS 11.3 beta 1 is installed, Messages will prompt users to turn on Messages in the Cloud when it is first launched.
Messages in the Cloud is automatically enabled for users who have two-factor authentication and iCloud Backup enabled, says Apple.
The new Messages in iCloud feature will be a welcome change for iPhone, iPad, and Mac users who prefer not to delete their messages. Over the course of several years, Messages can take up a lot of space. That space can now be freed up with the bulk of older messages stored directly in iCloud rather than on-device.