Toyota and Lexus to Offer CarPlay in Select 2019 Vehicles and Beyond in United States
Toyota today is introducing its all-new 2019 Avalon at the North American International Auto Show in Detroit, and MacRumors has learned it is the automaker's first vehicle with support for Apple's CarPlay.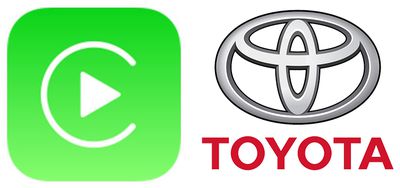 Toyota and Lexus plan to expand CarPlay compatibility to other 2019 model year and beyond vehicles with its Entune 3.0 and Enform 2.0 multimedia systems respectively, according to company spokesperson Brian Lyons. Toyota and Lexus vehicles with CarPlay will initially be sold in the United States only.
Entune 3.0 is already included with the 2018 Camry and 2018 Sienna, so CarPlay should be available in 2019 models of those vehicles at the very least. Toyota told us it hasn't finalized plans for all other vehicles yet.
Toyota said its CarPlay implementation will be wired, so connecting an iPhone via USB will be required. Entune 3.0 will also be compatible with Amazon's Alexa voice assistant in the United States, as Toyota announced at CES 2018 last week. It looks like Android Auto isn't supported at this time.
Toyota often competes for the title of world's largest automaker, and it was by far the most notable brand to not support CarPlay until now, lagging months or years behind competitors like Ford, General Motors, Fiat Chrysler, BMW, Audi, Mercedes-Benz, Honda, Hyundai, Kia, and Volkswagen.
Toyota had been listed as a committed CarPlay partner on Apple's website since 2014, but it had no plans to adopt the platform as of February 2015. "We may all eventually wind up there, but right now we prefer to use our in-house proprietary platforms for those kinds of functions," the company said at the time.
Then, in early 2016, Toyota entered into an agreement with Ford and Livio to deploy SmartDeviceLink, an open source multimedia system rivaling CarPlay and Android Auto. Ford and Toyota established a consortium in early 2017 to accelerate development of the open source software platform.
A recent survey indicated that an increasing number of customers consider CarPlay a must-have feature, so Toyota's support for Apple's software platform should benefit both new vehicle buyers and its bottom line.
Below is a list of some of the other new vehicles with CarPlay support debuting at the auto show this week:
- 2019 Audi A7
- 2018 BMW X2
- 2019 BMW i8 Coupe
- 2019 Ford Ranger
- 2019 Ford Edge 
- 2019 Genesis G70 
- 2019 Hyundai Veloster
- 2019 Kia Forte
- 2019 Honda Insight Prototype

- 2019 Lamborghini Urus
- 2019 Mercedes-Benz G-Class
- 2019 MINI Hardtop
- 2019 MINI Convertible
- 2019 RAM 1500
- 2019 Volkswagen Jetta
- 2018 Volkswagen Passat GT
- 2019 Chevrolet Silverado
- 2019 Jeep Cherokee
Apple periodically updates a list of over 200 vehicle makes and models available with CarPlay on its website.
Update: Toyota has now shared a press release that reveals the 2019 Avalon has a new nine-inch capacitive touchscreen. CarPlay is a standard feature on all trim levels of the vehicle, which goes on sale in late spring 2018.
Update 2: Toyota informed MacRumors that its CarPlay implementation will be wired, so connecting an iPhone via USB will be required. We're also told that CarPlay will be available in select 2019 model year and beyond Lexus vehicles with its Enform 2.0 multimedia system in the United States.
Update 3: Toyota told us that it doesn't have any plans to support CarPlay in pre-2019 vehicles at this time, even though models like the 2018 Camry and 2018 Sienna have its Entune 3.0 system.