Apple's Tim Cook and More Than 100 CEOs Urge Congress to Protect Dreamers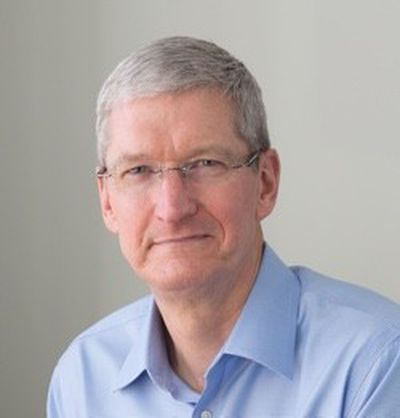 Apple's Tim Cook on Wednesday joined over 100 other CEOs in urging the U.S. Congress to pass a bill to protect young immigrants before the Deferred Action for Childhood Arrivals (DACA) program expires. For those unfamiliar with the program, DACA gives about 800,000 illegal immigrants who entered the U.S. at age 16 or younger work permits and protection from deportation by two-year deferral. Many of those protected by DACA have been in the United States for most of their lives.
In an open letter to House and Senate leaders, the group called on lawmakers to introduce legislation supporting so-called Dreamers by Friday, which is the deadline for Congress to pass a bill for government funding to avert a shutdown. The DACA program actually expires on March 5, but the CEO signatories say the government needs time to implement a new program before that deadline.

"We write to urge Congress to act immediately and pass a permanent bipartisan legislative solution to enable Dreamers who are currently living, working, and contributing to our communities to continue doing so," the letter reads. "The imminent termination of the DACA program is creating an impending crisis for workforces across the country."
Facebook's Mark Zuckerberg, Microsoft president Brad Smith, Amazon's Jeff Bezos, and Verizon CEO Lowell McAdam were additional signatories of the letter, which cited a CATO Institute study that found ending the DACA program could cause a $215 billion decline in the gross domestic product.

"In addition to causing a tremendous upheaval in the lives of DACA employees, failure to act in time will lead to businesses losing valuable talent, cause disruptions in the workforce, and will result in significant costs," the group wrote. "While delay or inaction will cause significant negative impact to businesses, hundreds of thousands of deserving young people across the country are counting on you to work in a bipartisan way to pass permanent legislative protection for Dreamers without further delay."
Tim Cook has been consistent in his support for a legislative solution to protect those affected by the end of the DACA program. Following U.S. President Donald Trump's September announcement that DACA would be phased out over six months, Cook sent an email to employees saying Apple would try to help Congress find a solution and would be working with impacted Apple employees to provide support, including access to immigration experts. Apple employs 250 "Dreamers", Cook previously revealed in a tweet.
In December, Cook teamed up with Koch Industries CEO Charles Koch to write an opinion piece in The Washington Post about DACA, asking Congress to work quickly to come up with a solution before the end of the year. That never happened, and the government's stance on the issue now appears to be mired in confusion.
On Tuesday, a federal judge in California issued a nationwide injunction ordering the Trump administration to maintain the DACA program on a nationwide basis while legal challenges to the president's decision go forward.
In another development this week, concerns grew among hardliners after Trump met with lawmakers during a freewheeling televised session, in which he signaled he was open to compromise and seemed to express support for a number of legislative options to legalize Dreamers.
Indeed, the president appeared to suggest that the details of a legislative solution didn't matter to him, telling congressional leaders that he would approve whatever they sent him. "I will be signing it," Trump said towards the end of the meeting. "I'm not going to say, 'Oh, gee, I want this or I want that.' I'll be signing it."
Note: Due to the political nature of the discussion regarding this topic, the discussion thread is located in our Politics, Religion, Social Issues forum. All forum members and site visitors are welcome to read and follow the thread, but posting is limited to forum members with at least 100 posts.