Canalys Predicts 2018 Will Be 'Defining Year' for Smart Speaker Growth
A new report posted today by Canalys predicts that 2018 will be "the defining year" for smart speaker adoption, with the global market expected to grow to 56.3 million shipments by the end of the year, up from just over 30 million in 2017 (via TechCrunch).
Canalys predicts that Amazon and Google will remain in the lead with Echo and Home speakers, respectively. In addition to existing products, Apple's HomePod will be one of multiple new entries in the market to help smart speaker consumer adoption grow this year.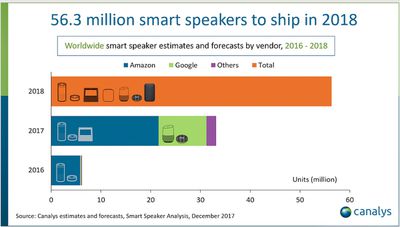 Canalys research analyst Lucio Chen said that smart speaker uptake has "grown faster than any other consumer technology" the group has recently encountered, including augmented reality, virtual reality, and wearables.

"2018 will be the defining year for smart speaker adoption," said Canalys Research Analyst Lucio Chen. "Smart speaker uptake has grown faster than any other consumer technology we've recently encountered, such as AR, VR or even wearables. While 2017 has been a banner year for smart speakers in terms of hardware sales, especially for Google and Amazon, smart speakers in 2018 will move beyond hardware, with strategic attempts to monetize the growing installed base in the US and beyond.

The possibilities to do this are endless, be it discreet advertising, content subscription bundles, premium services or enterprise solutions. The technology is still in transition, and increased investments from multiple players of the ecosystem will fuel growth."

On a country-by-country basis, the United States is believed to remain "the single most important market" for smart speakers in 2018, with shipments predicted to reach 38.4 million units. China is then marked as a distant second place with 4.4 million units. Looking further into the future, Canalys mentioned that the U.S. will hold its top spot in the global smart speaker market through 2020.
Canalys wrote that smart speaker adoption has accelerated on a global scale due to "successful upgrades" to existing products, and potential for smart home integration.

"Vendors have begun offering successful upgrades to their latest models, and a key element driving this stickiness are the smart home partnerships. Alexa's multiple smart home integrations, Google's partnership with Nest and Apple's HomeKit initiatives will continue to excite consumers of the smart speaker and fuel sales in 2018."
The HomePod will be Apple's entry into the smart speaker market, allowing users to use voice commands to control HomeKit devices, play Apple Music, ask Siri questions, and more. The device was previously set to launch in December 2017, but in November Apple decided to delay the speaker's debut to early 2018. Since that delay we haven't heard any mention of when the HomePod might launch, but the company's definition of "early" is generally January through April.