Amazon Says Prime Video Had Most First-Week Downloads of Any Apple TV App Ever
Amazon's long-awaited Prime Video app for Apple TV had the most first-week downloads of any app in the history of the tvOS App Store.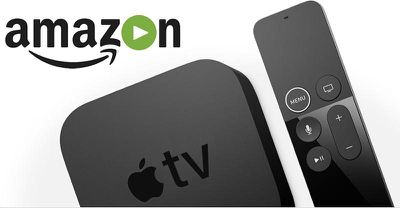 "Prime Video has been a hit with Apple TV customers around the world — it had the most first-week downloads of any app in the history of tvOS," an Amazon spokesperson reportedly told BestAppleTV.com.
Amazon and Apple haven't disclosed any actual download numbers, nor do we know the previous record or the app that achieved it. The tvOS App Store launched alongside the release of the fourth-generation Apple TV in October 2015, and thousands of apps are now available to download on the platform.
Amazon Prime Video launched on the tvOS App Store for the fourth-generation and fifth-generation Apple TV earlier this month, and it was also automatically made available on the non-tvOS third-generation Apple TV.
Similar to the Prime Video app on other platforms, the Apple TV version enables Amazon Prime subscribers to watch Amazon Prime exclusive TV series, and a collection of movies, including some titles in 4K HDR. Prime Video for tvOS supports both the Apple TV's universal search functionality and Apple's TV app.
Amazon achieved this accomplishment despite some criticism about the Prime Video app having a poorly designed interface. Apple reporters John Gruber and Rene Ritchie, for example, have both said Prime Video is the worst tvOS app they've ever seen, echoing a sentiment shared by some users on Twitter.
Nevertheless, given Prime Video is a popular service and was already available on so many other platforms, many Apple TV owners are likely happy that at least some kind of app is finally available on tvOS.
BestAppleTV.com is run by Brad Gibson, who has previously worked for Apple-related publications such as MacUser, MacFormat, MacNN, The Mac Observer, MacCentral, and Macworld, some of which have shut down. We haven't confirmed the accuracy of Amazon's statement with Apple or Amazon.
Update: Gary Ng at iPhone in Canada informed us he received the same statement from Amazon, confirming its authenticity. We've also learned the statement originates from Apple, despite being distributed by a PR agency working with Amazon.